Miranda Lambert Bashes Chris Brown, Round 2! 'It's Not Okay To Be Celebrated After Doing Something Like That'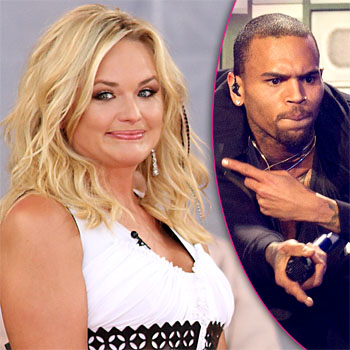 Article continues below advertisement
"I don't get it. He beat on a girl...Not cool that we act like that didn't happen," Miranda tweeted in February 2012 after he was honored at the show, which enraged the rapper and sent him on a nasty tweeting bender.
"Yeah, I didn't feel right about not saying something. The loudmouth that I am, I say what I think," the 29-year-old explains about the tweet. "I've got these pistols tattooed on my arm, for God's sake!
"I wanted everyone to know that I don't agree with the message it's sending to young woman. It's not okay. At all. To be celebrated after doing something like that."
Time, and Brown's reconciliation with Rihanna, hasn't made Mrs. Blake Shelton more lenient on her stance.
"I don't think it's right, I never will, and I will stand by what I said till the day that I die."
But Lambert doesn't consider it a celebrity feud.