Manorexic Much? Scary Skinny Male Model At Paris Fashion Week Ignites Controversy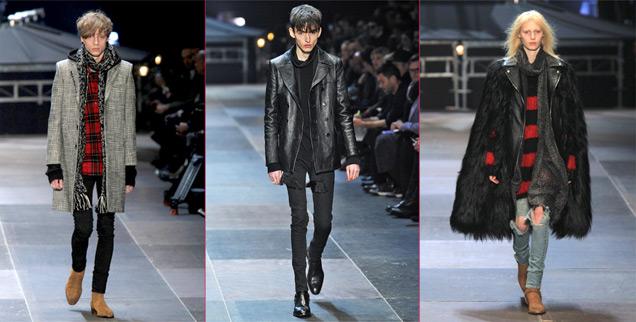 Much attention has been focused on eating disorders in the fashion industry, but women aren't the only ones who can cause a stir with their scary skinny bodies!
A shockingly gaunt and sick looking male model walking the catwalk at Hedi Slimane's Yves Saint Laurent men's show at Paris Fashion Week has spawned international controversy about the fashion industry's responsibility to promoted healthy body images, for men as well as women – and RadarOnline.com has the details.
Article continues below advertisement
After the French fashion house's show, which featured several super skinny and emaciated looking male models, one incredibly gaunt gentleman h provoked fashion blogger Poppy Disney to tweet her concern.
"Woefully irresponsible model casting at YSL yesterday," she tweeted. "Speechless."
Disney, who has the popular blog What I Wore Today, continued to tweet about the issue after her followers expressed shock and horror, clarifying that the casting director and the fashion house are to blame and that everyone should be respectful of the model, who may or may not, have an eating disorder.
"Getting a lot of tweets re that YSL model pic. The model himself is not the one to blame remember, it's the casting director and YSL," Disney wrote.
"It's not helpful to call him disgusting," she continued. "I don't know if he has an eating disorder, but it was YSL who thinks that 'look' is ok & booked him."
"It's kind of disgusting to call anyone disgusting – let's not forget that eating disorders are mental illnesses (I'm not saying he has one.)"
Article continues below advertisement
Helen Lewis of NewStatesman also had a problem with the male models in the show.
"Male models at Hedi Slimane's show for Yves Sainta Laurent looked ill, tired – and unhealthily skinny," she explained.
Later on in the story, she continued: "This is fetishizing thinness, and the appearance of illness, as just another quirky aesthetic choice. And it's not healthy."
While much international attention has been focused on banning anorexic appearing models from walking the catwalk, it is usually the women who are under scrutiny, however, the New York Times published a story in 2008 about the "vanishing" male model, pointing the finger at Slimane as the main offender.