Lone Star College On Lockdown After Shooting -- One Suspect In Custody, A Second On The Run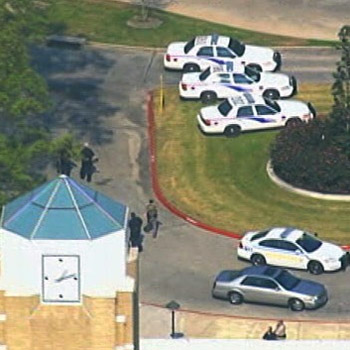 The Lone Star College campus near Houston, Texas is under lockdown following a shooting that has left at least three people injured, including one possible suspect who is currently in custody while police hunt for a second suspected shooter.
The North Harris County based college has become yet another school shooting crime statistic as dozens of law enforcement officers search for the alleged accomplice who they believe escaped into nearby woodland, reported KHOU.com .
Article continues below advertisement
Witnesses claim two men were arguing when one of them pulled a gun and opened fire , and students say they dove under their desks for cover when they heard the gunfire. One of the suspected shooters was reportedly brought out of the library handcuffed to a stretcher.
"I actually had just come out of EMT class and I noticed that there were two downed victims so I stopped to render assistance," student Mark Zaragosa told KHOU. "The two people that I took care of had just minor injuries. One had a gunshot to the knee and the (other) actually had an entry wound to the lower buttocks area."