Kim Kardashian Cheated On Reggie Bush With Kanye West, Former Associate Claims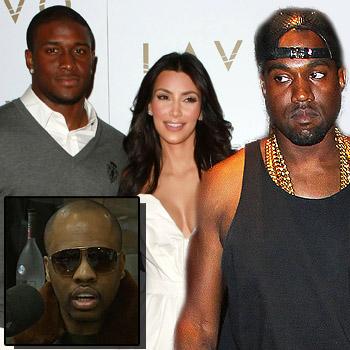 Turns out that when it comes to fidelity Kim Kardashian was no saint, even when she was dating one!
The reality TV star cheated on her ex Reggie Bush with her current love and soon-to-be-baby daddy Kanye West, his former associate, rapper/producer Consequence told Power 105.1's Breakfast Club show early Thursday.
Consequence, who has fallen out with Kanye in recent years, appeared on the show with his girlfriend Jen the Pen, who claimed she was also privy to Kanye and Kim's alleged indiscretions.
Article continues below advertisement
"When Kanye was sticking Kim when Kim was with Reggie, you know whose secret that was?" Jen asked. "That was our secret: When the rest of the world didn't know … that secret was in my home."
Jen added that Consequence - whose real name is Dexter Raymond Mills Jr. - was bombarded with phone calls from an anxious Kanye asking him, "What do I do about Kim? I need to be with her!"
Consequence, who was formerly inked to West's G.O.O.D Music label, said he was frequently dropping off Kanye at hotels for discreet trysts with the E! star.
Clearly no fan of his former boss, Consequence claimed that Kanye has both taken credit for, and stiffed him on, hit songs he wrote for the hip-hop king.
"When you not my friend no more and I ghostwrote for you, I'm gonna tell everybody - I am a ghostwriter. I have been helping you. That's why I can say I'm arguably one of the best," he said. "If you running around here talking about you the best on the planet, and you definitely say that, then how you the best on the planet if you got my pen?"
Article continues below advertisement
As RadarOnline.com previously reported, Consequence is not the only former member of Kanye's inner circle to come forward with tales that he and Kim had been having hush-hush sexual encounters long before formally becoming a couple.
"They were both cheating," West's ex, Amber Rose, told Star magazine last year. "They were both cheating on me and Reggie with each other."
Amber said that after Kim had sent Kanye racy self-shots, "I was like, 'Kim, just stop. Don't be that person.' I thought at least she'd be woman enough to respond to me. She never responded."