Happy 91st Birthday To America's Golden Girl Betty White!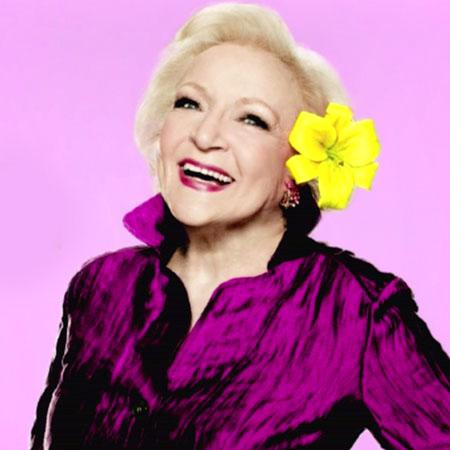 Betty White celebrates her 91st birthday Thursday, and we've uncovered a list of seven things you may not know about the beloved Golden Girl.
7. Betty is a renowned animal activist, and even debated a career as a zookeeper or forest ranger prior to making it in Hollywood. She turned down a role in 1997's As Good As It Gets because of a scene in which a puppy dog was hoisted down a laundry chute. Betty, who loves going to zoos on her cross-country travels, was made an honorary ranger by the U.S. Forest Service in 2010.
Article continues below advertisement
6. Betty's burgeoning career took a backseat to World War II in 1939, when she joined the American Women's Voluntary Services shortly after her initial TV appearance, in which she sang The Merry Widow with a pal.
5. While her nearly 20-year marriage to game show host Allen Ludden is the one people remember most, Betty was actually married twice before Ludden. White's first marriage to Frederick R. Barker lasted just five months in 1945, while her second marriage, to actor Lane Allan, ended after less than two years in 1949.
4. Betty is the eldest, and last surviving member of The Golden Girls cast. She was originally offered the role of sexpot Blanche Devereaux, based on her previous similar role on The Mary Tyler Moore Show. Conversely, the late Rue McClanahan was offered the role of the dim-witted Rose for her work on Maude. The director of the pilot decided to switch things up, since audiences had essentially seen the actresses in those roles. When White reluctantly took the part, the show's producers urged White to play Rose not as as if she's slow, but rather "terminally naive, a person who always believed the first explanation of something." She would be nominated for an Emmy each of the seven years the show aired, and went on to reprise the Rose role on three separate programs: The Golden Palace in 1992, Nurses in 1991, and Empty Nest in 1988.
Article continues below advertisement
3. The Oak Park, Illinois-born actress moved with her family to Southern California during the Great Depression. After discovering her knack for the stage in junior high, she attended Beverly Hills High School. Other famous alumni of the school include A-list Oscar winners Angelina Jolie and Nicolas Cage, rocker Lenny Kravitz, Hollywood veteran Rob Reiner, Friends star David Schwimmer, and the great Albert Brooks.
2. Betty's won seven Emmys, and been nominated for the highest honor in television an astounding 21 times. Her wins were for The Mary Tyler Moore Show (twice), Life With Elizabeth, The Golden Girls and The John Larroquette Show.
1. Betty's pledged her support to a list of politicians that reads like a who's who in her 91 years. The lifelong Democrat has been vocal in her backing of Franklin D. Roosevelt, John F. Kennedy, Jimmy Carter, Bill Clinton and current commander-in-chief, President Barack Obama.
To learn more about Betty's long and fabulous life, check out the commemorative book in LIFE's new ICONS series, where editors recount-and celebrate the star from her first TV gig to Hot in Cleveland, and her personal life as a wife and mother along the way. LIFE ICONS Betty White: The Illustrated Biography is available on Amazon.com for $17.95.