ESPN's Hannah Storm Back At Work After Suffering First & Second-Degree Burns In Grill Accident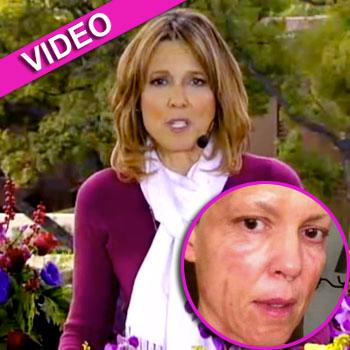 ESPN anchor Hannah Storm returned to work to host the Rose Parade in Pasadena Tuesday, just three weeks after she suffered first and second degree burns in a grilling accident in the backyard of her Connecticut home.
In an emotional interview with her former ESPN colleague (now Good Morning America broadcaster) Josh Elliott, she described the series of events that led to the scary incident.
Article continues below advertisement
"We have a propane grill, I went outside to light it to cook the meat … it was a windy night, so the flame had been blown out that I ignited, so I turned the gas off, I went to reignite it and there was an explosion," she told Elliott. "A wall of fire came at me, it was like a movie. It literally blew the doors of the grill off, and I looked down, and I was on fire -- that's a terrible feeling."
Watch the video on RadarOnline.com
Storm -- whose face, neck, hands and chest were burned -- said when she got her first look at herself after the explosion, "What I saw in the mirror was scary: I was completely disfigured."
Storm, whose left arm was covered in bandages, said all of her hair was singed off in the accident as well.
She said that her children have been invaluable in her recovery, doing things like changing her bandages and leaving little sticky notes to remind her when to take the proper medication.
MORE ON:
hollywood happenings
Article continues below advertisement
The 50-year-old broadcaster added, "My friends really came through -- I really don't know if I could have done this day with anyone but you," she told Elliott, who responded that he'd never been happier to see her.
"Something like this really makes you appreciate everything you have, even the chance to wake up on New Year's Day and do your job," she later said. "More than anything, I feel gratitude."