Lauren Scruggs Screamed 'I Am So Ugly!' When First Saw Her Disfigured Face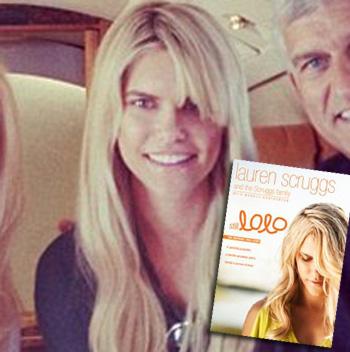 By Debbie Emery - RadarOnline.com Reporter
She has put on an incredibly brave front to the public, but behind her smiles model/fashion blogger Lauren Scruggs is revealing the horror she felt when she first saw the disfigured face that had been ravaged by a plane propellor.
"I am so ugly!" the 24-year-old screamed when she finally looked in the mirror naked and saw the aftermath of the fateful night in December 2011. "My life is ruined! No one will ever love me!"
Article continues below advertisement
The model and fashion blogger reveals how she was consumed with "primal, uncontrollable anger" and collapsed into a "storm of mourning" in her new memior, Still Lolo: The Inspiring True Story, which is available starting on Thursday, November 15.
Instead of the pretty blonde looking back at her, Lauren saw a dent in her shaved skull which held titanium plates, a scar down her face, a sagging lip, cracked teeth and her left eye and left hand completely missing.
As RadarOnline.com previously reported, despite the extent of her injuries, Scruggs was lucky to be alive after walking into a plane propeller near Dallas, Texas, following a sight-seeing flight looking at Christmas lights. Lauren suffered injuries to her entire left side as well as a fractured skull, broken left collarbone and brain injuries.
Lauren's startling encounter with her new self came in January when she finally had the courage to look at herself naked to battle the mood swings that suddenly began erupting.
Article continues below advertisement
"From out of nowhere this phantom rage rushed over me. I was absolutely primal, uncontrollable," Scruggs confessed. She was eventually calmed by family, including loving parents Jeff and Cheryl Scruggs, who helped her come face-to-face with her new life.
"From deep within me a storm of mourning brewed and broke forth," wrote Lauren. "I climbed into the shower and the storm hit and the rain fell all around me. Then I crumpled onto the floor of the shower and sobbed."
It has been a long road to recovery, but now almost a year later she is proudly showing off her prosthetic hand and eye and barely has a visible scar from the accident, although she revealed that it has changed her to her core.
"I came to see how there was so much more to my life than being worried about how I looked," Lauren wrote in her memoir, explaining how the "split-second encounter" made her a better person.