Disfigured Model Lauren Scruggs Shows Off Her Surprisingly Realistic Prosthetic Hand And Eye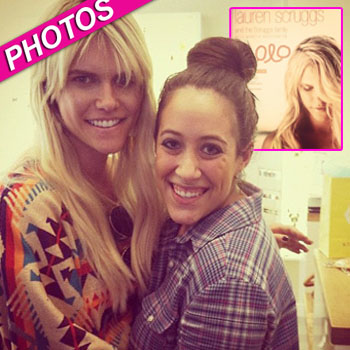 By Debbie Emery - Radar Reporter
As the first anniversary of her horrific accident approaches, disfigured model Lauren Scruggs is proudly showing off how far she has come with her recovery in a Twitter picture that makes it hard to even guess the hell she has been through.
The model and fashion blogger glowed in the cute photo while smiling with a friend outside a Memphis BBQ restaurant, revealing her incredibly realistic prosthetic left hand and eye, as she thanked jewelry designer Kendra Scott for "for finding the ring :) XO."
Article continues below advertisement
As RadarOnline.com previously reported, the 24-year-old is lucky to be alive after walking into a plane propeller in December 2011, following a sight-seeing flight looking at Christmas lights. Lauren suffered injuries to her entire left side as well as a fractured skull, broken left collarbone and brain injuries.
She is now sharing her remarkable recovery with fans in her new book, Still Lolo: A Spinning Propeller, a Horrific Accident, and a Family's Journey of Hope, which hits shelves on November 15 and is currently piling up pre-orders on Amazon.com.
In the moving memoir, Scruggs shares how that fateful holiday flight ripped both her face and her life apart. "A frantic 911 call, several major surgeries, and thousands of prayers later: Lauren lived," reveals the book's description. "She and her family reveal what really happened that night, what Lauren's life is like today, what got them through their journey toward healing, and how they conquered all odds to persevere as a family."
Article continues below advertisement
In the compelling story, Lauren reveals how even before the accident she had a startling sense of trepidation: "There was no thunder or lightning. No strong winds. All I heard was the friendly drone of the plane's engine and the occasional crackle over the microphone's earpiece. But I still couldn't shake this crazy fear."
Despite the devastating accident, the brave model has not lost her lust for life and in the past 11 months she has gotten back into her dedicated fitness regime, learned to drive a stick shift, and even hit the waves and went surfing!