Exclusive
Inspiring Story Of Childhood Best Friends Who Were Both Paralyzed After Devastating Accidents Two Years Apart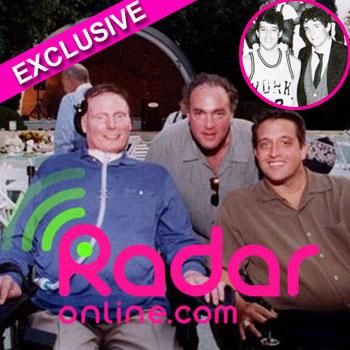 By Debbie Emery - Radar Reporter
As teenagers, with their whole lives of adventure ahead of them, best friends Alan Brown and Danny Heumann walked together to get their high school diplomas, but now, 27 years later, they wheel their chairs side-by-side after both being paralyzed in devastating accidents two years apart, and RadarOnline.com has exclusive details.
To commemorate 25 years since he broke his neck in a freak incident while diving into the ocean on a Club Med vacation in January of 1988, 45-year-old Brown, director of public impact for the Christopher & Dana Reeve Foundation has pledged to raise $250,000 ($10,000 for every year he has been wheel-chair bound) with his Power Of We campaign to help others suffering from spinal cord injuries.
Article continues below advertisement
Just two years before Alan's fateful plunge, Danny had been involved in a deadly car accident while working as a counselor in summer camp in the Adirondacks in New York state that killed the driver and left him with a broken back.
"Then I had to outdo him! I always have to better my friends - he breaks his back so I break my neck," Brown, who is paralyzed from the neck down with limited movement in his back and arms and no hand-function, joked to RadarOnline.com in an exclusive interview.
"It's funny when we're together because I pick on him a lot. I am very well organized and he's not but he has hands that work and I don't so I always ask him to lift things up or cut my food for me, it's the little things along those lines that people don't think about."
Despite putting on a light-hearted air, Alan's accident 25 years ago is still very clear in his mind and he is brought to tears when describing the devastating day that stole his youth.
Article continues below advertisement
"The undertow pulled my legs out from beneath me and a wave dragged me under the water and my neck snapped," he told Radar. "I heard it break and at first I thought it was my back that broke because of what happened to Danny. I was in the water for two or three minutes holding my breath and I basically tried to kill myself by inhaling so much water underneath the surface to end it," Alan confessed.
"I realized that I couldn't move and when I was underneath there I literally saw my life flash in front of me and I thought, 'I guess this is it, I'm going to die.' It was definitely out of my control.
"Then they pulled me out and all hell broke loose. It was messy and ugly and I was bleeding because they had to yank me out of the water over the rocks."
Alan's family immediately alerted Danny and it was his father who arranged for a medical plane to airlift him from Martinique to a specialist in Miami, which began a long, arduous string of surgeries.
Article continues below advertisement
Instead of a boozy night out on the town with his friends, Alan spent his 21st birthday in an operating theater, "getting nine plates and eight screws in my neck," he told Radar.
"Not being able to function with your hands, it's pretty devastating," he revealed. "The accident made my life. I don't think I would have been as good a person without it. I always wanted to help people but now it allows me to do it in a different way, and the satisfaction I have helping people – even though I struggle a lot - gives me a platform."
Even with Danny living in Ann Arbor, Michigan and Alan in Florida, the childhood best friends remain closer than ever.
"I think now at this point that we are both aging with our injuries and we've become so much closer. He is married with a child, I have two children and an ex-wife," Brown explained.
"Now we're in the same boat we realize there's not going to be a magic pill that's going to cure us. There's going to be different things that come together, he helps me and I help him and we laugh. We're on a mission and he's part of my story."
Article continues below advertisement
Danny is just as dedicated to his high school buddy, telling Radar, "We are best friends, we speak at least three or four times a week. We can go with not seeing each other for a year but as soon as we do it is like we spoke yesterday."
When Christopher Reeve went from Superman to a quadriplegic in 1995 following a tragic horse riding accident, Alan was there to offer his support and encourage the actor to fight on.
"I wouldn't call myself an inspiration for Christopher, but I was there for him. I would call and check on him the same way I would have done whether his name was Christopher Reeve or John Smith. It doesn't make a difference who you are or what you are," he explained.
He became close with the whole family before Reeve's death in 2004, "his youngest son used to sit on my lap during New York Ranger hockey games," Brown revealed. "His kids are phenomenal, they're unbelievable. Matthew, Alexandra and Will are all three pretty amazing children."
Article continues below advertisement
Now working for the Christopher & Dana Reeve Foundation, Brown has vowed steadfastly: "I am not going to let anything stop me, I am going to take these 25 years and I'm going to embrace them and make sure I bring this community together by putting it out there for people to grasp onto.
"It is what Christopher would have done and what Dana would have done," said Alan.
"When my friends realize it was 25 years ago that they got that phone call, it really hits home with them and they remember how shocked they were. You don't think that one of your buddies is going to go down. I was a pretty vibrant kid and for me not to be able to move again is scary," he recalled while fighting back the tears.