Who Was The 'Crazy Love' Couple? Inside The World's Most Bizarre And Obsessive 'Fairy Tale Romance'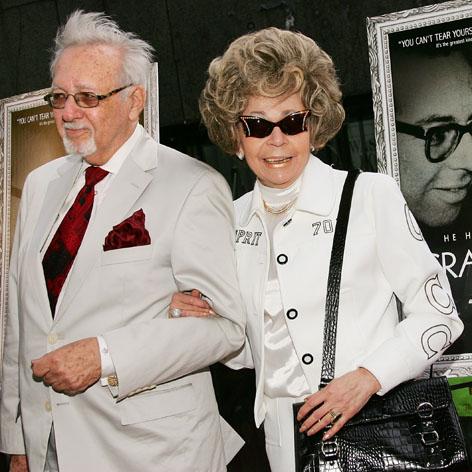 As friends and family mourn the death of Linda Pugach, and the husband who hired hit men to permanently blind her mourns his lost love, RadarOnline.com reveals intimate details of the couple's bizarre bond that endured a brutal attack, a prison sentence, and countless illicit affairs.
Born Linda Riss in the East Bronx, the subject of the 2007 documentary Crazy Love died of heart failure at age 75 at the the Long Island Jewish Hospital on Thursday, but her legacy will no doubt live on.
Article continues below advertisement
Her road to infamy began when as a 21-year-old working as a secretary, she began a relationship with Burton 'Burt' Pugach. However upon learning that he had a wife and child, she left him in 1959 and became engaged to another man.
Driven crazy with jealousy, Pugach threatened to kill her, saying: "If I can't have you, no one else will have you, and when I get through with you, no one else will want you."
Rather than slaying his lost love, the successful lawyer paid three assailants to throw lye (also know as sodium hydroxide or caustic soda) into her eyes, leaving her blinded and permanently scarred.
"She was a sheltered, naïve young girl," Crazy Love filmmaker Dan Klores told the New York Times. "Her identity was centered around her physical beauty. When she had this romance with this older man — this obsessive relationship — he worshiped her for that physical beauty. And when that was taken from her, the scars weren't merely on the outside."
Article continues below advertisement
The high profile trial was as dramatic as the attack, with the defendant being declared insane three separate times, only to have the decisions reversed at his demand. At one point he removed a lens from his eyeglasses and slashed his wrists, crying: "Linda, I need you. Linda, I love you. Linda, I want you."
Pugach, now 85, served a 14-year prison sentence for the violent assault, during which he continued to pen loves letters to his ex-girlfriend, who rather than being consumed with hatred reciprocated the affection and reunited with Burt when he was released in 1974.
"At one point," the Times reported in 1959, "he was said to have promised, 'I'll get you a Seeing Eye dog for Christmas.'"
The unlikely couple shared their story with the world in the book Very Different Love Story, and Linda even went on to walk down the aisle with Burt after he divorced his first wife and proposed to her on national television.
Not surprisingly, marital bliss was not on the cards for the pair, and Purgach embarked on a string of extra-marital affairs.
Article continues below advertisement
However, Linda's steadfast loyalty stretched as far as even testifying in court to defend her wayward husband in 1997, when he was accused of threatening and harassing another lover after she tried to end their five-year affair. That woman testified that he threatened to make it "1959 all over again."
On the stand, Linda described her husband as a good man and under cross-examination by Pugach, a disbarred lawyer who defended himself, she said couldn't have sex with him after undergoing heart surgery in 1990 and understood why he strayed.
"He was a naughty little boy and he was caught," she said as she left the courtroom on his arm, saying he was an adulterer, not a criminal. Pugach was ultimately convicted of only a single count — harassment in the second degree —and sentenced to 15 days in jail.
Even the man who spent the most focused time with the Pugachs doesn't fully understand the tie that bound them.
"I don't use the word 'guilt'," Klores told the Times, about what had prompted the couple to marry. "But I'm not using the word 'love'."