Jenelle Evans' Hubby Courtland Rogers Admits He Used To Smoke Crack, Takes Xanax & Smokes Weed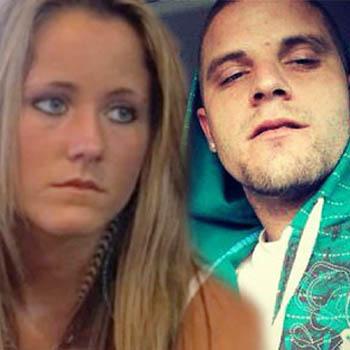 Jenelle Evans' estranged husband, Courtland Rogers, admits on camera that he used to smoke crack, RadarOnline.com is reporting.
"I don't smoke crack no more," Courtland says in the video you can see here that his baby mama Taylor Lewis posted Wednesday on her Twitter account.
"I don't do heroin. Every once in a while I take Percocet because I just like to float, and I use xanny bars (a 2mg dose of Xanax in a bar-shaped pill form). But I'm okay with that! And I smoke kush."
Article continues below advertisement
The video - taped in December last year - shows Courtland with Taylor, their daughter Jaja and some friends.
As RadarOnline.com previously reported, Courtland admitted to multiple stints in rehab and an addiction to prescription pills, but he has always denied that he ever smoked crack.
Earlier in the same video, Courtland brags about all his Twitter followers and all the girls who send him messages.
"When we go out smoke a cigarette, watch how many messages I got from just random girls in different states," he says.
"They wanna get with you?" a girls asks.
"All of them," he responds. "I used to always tell you I was gonna be famous one day. You didn't believe me! And I'm not famous, but I swear to god I'm a celebrity. I got a celebrity way."
Just this week Jenelle accused Courtland of cheating on her and has been posting photos on Twitter of her correspondence with other women and even a hand-written note that she claims is his list of girls.
Article continues below advertisement
In another video - which you can see here - Courtland gets on the phone with Jenelle and lies to her about being with Taylor.
"You went to see Taylor and Jaja, dude, thanks a lot. And now you don't want to answer your phone or you're with Alicia (his ex-fiancee)," Courtland says, reading a text message from Jenelle.
"She's psychic, girl, I'm telling you!" Courtland says.
Courtland then calls Jenelle after she claims she's going to call Verizon to get his phone records.
"Well what time are you gonna be done? Because I might just chill at PK's house out here so I don't have to waste another twenty f**king dollars in gas because I ain't got no money," he says to Jenelle.
He then asks her, "Why do you sound f**ked up?"
"I'm not f**ked up," Jenelle says. "I'm just chillin'."
"Alright, well look, I love you. And I guess just call me when you're ready. I'm gonna sit out here and wait on you if I have to wait in the parking lot," Courtland says, while Taylor holds back laughing out loud.
Article continues below advertisement
"I'm f**ked up on xans (Xanax) babe, I'm telling you."
"Why don't you go to your moms?" Jenelle asks.
"Why the f**k would I drive all xannied out all the way to my mom's house and then all the way the f**k back here, again, three times in an hour?" he asks.
"Have fun, man, while I'm depressed." Jenelle responds.
When Taylor asks Courtland why he's even married to Jenelle his response is: "It's going to bring f**king money to us sooner or later."