Exclusive
Conrad Murray Dumped By Attorney Michael Flanagan Following Jailhouse Altercation With Legal Team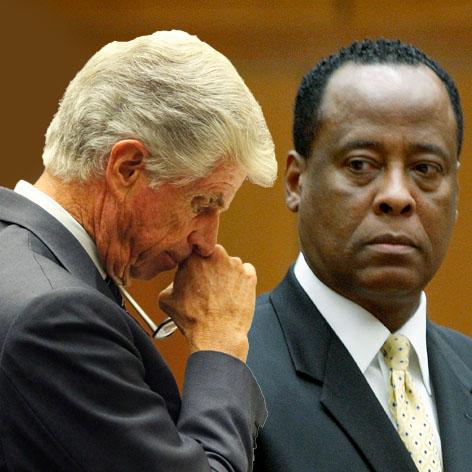 Just one week after Michael Flanagan got into a heated jailhouse altercation with Valerie Wass, his fellow attorney and co-counsel, he has announced his intention to no longer represent their client, Conrad Murray, RadarOnline.com is exclusively reporting.
"Flanagan will inform Murray during his next jailhouse visit that he will no longer be representing him," a source tells Radar. "Michael had been representing Murray in his fight against the California Medical Board to get his medical license reinstated.
Article continues below advertisement
"Michael had been assisting Wass, who is Murray's appellate attorney, but wasn't formally on record. Michael has already formally notified Wass in writing that he's quitting and will give Conrad referrals for other attorneys who may be able to assist him."
The two attorneys, along with Flanagan's son, were involved in a physical and verbal altercation at the Men's Central Jail in Los Angeles last week as they were visiting Murray. Wass subsequently filed a police report alleging Flanagan's son pushed her. A Los Angeles County Sheriff's Spokesperson said it was a "very minor altercation" but that there would be an investigation in to the matter.
Meanwhile, as RadarOnline.com previously reported, Murray's baby mama, Nicole Alvarez, recently sold a sobbing voicemail message that the convicted felon left for her from jail, to a website so she could pay her rent
In the voicemail, a highly emotional Murray can be heard sobbing as he complains about the hardship of life behind bars.
"I can't sleep now, it's very hard, I'm in constant pain," he bemoans. "Can someone please help me? I can't use my hands anymore, I have no more use of my arms."
Murray is currently appealing his four year involuntary manslaughter sentence for the death of his patient Michael Jackson.
The disgraced former cardiologist, "is ever so hopeful that his appeal will be successful, and he will be let out of jail early on bail while his appeal is heard," an insider previously told Radar.
However, the chances of Murray being let out early "are really slim to none. Murray has been deemed a flight risk, and he has been denied several times before during the appellate process to be released," a law enforcement revealed.