Dr. Conrad Murray In Tears As Patient Testifies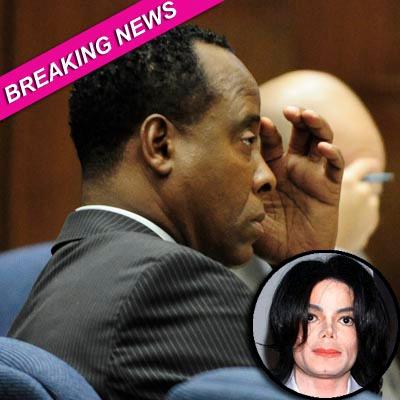 Dr. Conrad Murray broke down in tears as his best friend and patient testified on his behalf in the Michael Jackson death trial in a Los Angeles courtroom on Wednesday morning, RadarOnline.com is reporting. The defense called Gerry Causey from Houston, Texas to the stand as a character witness.
Causey said that Dr. Murray had saved his life as the embattled cardiologist had performed a successful angioplasty on him. Dr. Murray broke down in tears as Causey, who described the doctor as his best friend, raved about the treatment he received. Causey asserted that Dr. Murray would call his wife and would often apprise her of test results, and upcoming appointments. Causey said he received local anesthesia, and that he wasn't knocked out during the time of the procedure.
Article continues below advertisement
Deputy District Attorney David Walgren asked Causey if Dr. Murray ever treated him for any sleep disorders or any durg problems; Causey said no. Walgren also inquired about where Causey's procedure was performed and he said in the hospital.
Dr. Murray also broke down as another patient said that Dr. Murray was the best doctor he had ever had. Dr. Murray's defense could rest as early as Friday. Under cross examination Andrew Guest was asked if Dr. Murray had ever given him propofol in his bedroom, and he said no.