Exclusive
Dr. Conrad Murray's Baby Mama Sold His Jailhouse Sobbing Voicemail To Pay Her Rent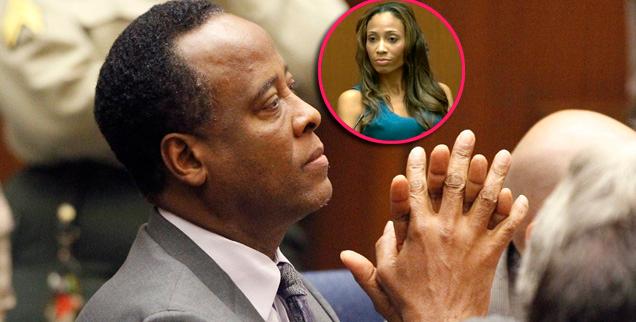 Michael Jackson's one-time doctor, Conrad Murray's baby mama Nicole Alvarez, sold a sobbing voicemail message that the former physician, who was convicted in the involuntary manslaughter death of the King of Pop, made from jail as he sobbed about not being able to sleep, to a tabloid website so she could pay her rent, RadarOnline.com is exclusively reporting.
"Nicole sold the voicemail message Conrad left for her to a tabloid gossip website for several thousand dollars so she could pay her rent. Nicole relied on Conrad to support her and their young child. She hasn't been able to find steady work as an actress since she testified at Conrad's involuntary manslaughter trial," a source told RadarOnline.com exclusively.
Article continues below advertisement
During the voicemail message, Murray cries, "I can't sleep now, it's very hard, I'm in constant pain. Can someone please help me? I can't use my hands anymore, I have no more use of my arms."
Judge Michael Pastor sentenced Murray to four years in state prison, but because of jail overcrowding, Murray is serving his sentence at a county jail in Los Angeles, and he is expected to be released at the end of 2013.
As RadarOnline.com previously reported, Murray has been passing time in jail by writing a tell-all book in hopes that he will get a big payout from a publisher. There has been zero interest in the book after reps for Murray reached out to several publishers.
Meanwhile, Murray is "ever so hopeful that his appeal will be successful, and he will be let out of jail early on bail while his appeal is heard," the insider said.