Victoria Jackson Controversy Grows As She Spreads Pro-Gun Message In Wake Of School Tragedy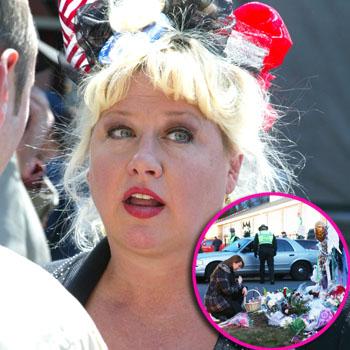 Victoria Jackson -- the former Saturday Night Live comedienne turned ultra-conservative pundit -- posted a pro-gun image to her Facebook on Sunday in yet another apparent political commentary in wake of the massacre at Sandy Hook Elementary School in Newtown, CT.
In her latest posting, Jackson, 53, shared an image of notorious Oklahoma City courthouse bomber Timothy McVeigh that included the caption: TIMOTHY MCVEIGH DIDN'T USE A GUN.
Article continues below advertisement
The posting also contains several sub-points, including:
*KILLED 168 INNOCENT PEOPLE.
*KILLED 19 CHILDREN UNDER AGE 6.
*INJURED OVER 680 PEOPLE.
*YOU CAN STILL BUY FERTILIZER.
*YOU CAN STILL BUY RACING FUEL.
*YOU CAN STILL RENT BOX TRUCKS.
The post ends with: MURDERERS WILL MURDER WITH OR WITHOUT A GUN.
GUNS ARE NOT THE PROBLEM.
The posting then asks her Facebook friends to 'share it if you agree.'
As RadarOnline.com previously reported, this is not the first time Jackson has taken to her Facebook page to comment on the Sandy Hook tragedy.
Last Friday -- the day the shooting happened -- Jackson wrote: "My friend Jim Riley posted: 'Wasn't the Connecticut killer just doing what abortionists do every day? It's a wonder we don't have more 20-year-old 'dads' doing what women and doctors have been an accomplice to for years in America.
"'When you forget the TEN COMMANDMENTS, people, THIS is what you get'."
While one outraged person commented that Jackson should have to "go before all of the families that lost loved ones" with her views, that didn't stop Jackson.
MORE ON:
sandy Hook Elementary School
Article continues below advertisement
The Tea Party supporter went on to criticize President Barack Obama who tearfully addressed the country in the wake of the shootings.
Jackson wrote: "Obama dramatically wiped a tear as he said, 'The majority of those who died today were children – beautiful little kids …They had their entire lives ahead of them…"
She adds: "YEAH OBAMA. SAME AS THE MILLION BABIES YOU HAD ABORTED THIS YEAR.
"ARE YOU CRYING FOR THEM?!"
Jackson frequently uses social media to share her controversial views. As RadarOnline.com previously reported, she let rip on election night when President Obama was reelected.
She tweeted: "I can't stop crying. America died." Jackson also wrote: "Thanks a lot Christians, for not showing up. You disgust me."
On her Facebook page Jackson describes herself as being "an outspoken activist for the conservative movement."