Newtown Massacre: Third Grade Survivor Recalls Terror At Horrific Elementary School Shooting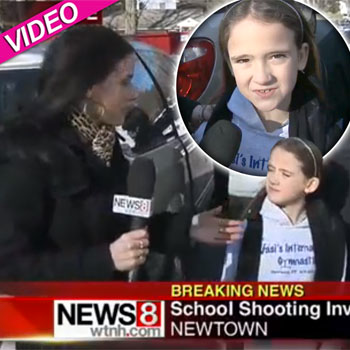 By Debbie Emery - RadarOnline.com Reporter
As details continue to emerge about the deadly school shooting in Newtown, Conn., children from Sandy Hook Elementary tearfully recalled the horror they witnessed Friday.
One reporter from WTNH.com described the devastation as a chaotic and emotional scene, "there are kids everywhere, some are crying, some are shaken up."
The local news channel spoke to third grader Alexis Wasick, 8, who was in the middle of the mayhem during the tragedy.
Article continues below advertisement
"There were all these people, we were by the window of the classroom and we saw police officers, and we saw them on the roof and in our building," said the little girl.
When asked if everyone was crying and scared, she replied: "They were, people kind of felt like they had a stomachache. The police officers were kinda out the door because they were trying to find the guy.
"I was very excited (to see dad)," she said, while huddled close to her parents.
"It was shocking, I got the call at work this morning," explained her father. "I can't believe a small town like this would have anything like that happen. And to be in an elementary school - it is unheard of.
"I was pretty shaken up, I didn't know who or what happened. I knew there were shooters in the building – or a shooter – and was just worried about who else was left in the building," he said.
Article continues below advertisement
Alexis' mother went on to reveal: "It doesn't even seem real. It doesn't seem like it's even possible. You read it in the paper or see it in the news and think, 'Oh my god, that poor family,' and then something happens so close to home. I think I am still in shock.
"We are coping, we are still coping, we are trying to find out what is going on. It is nerve-wracking," she said.
Meanwhile, first grade teacher Kaitlin Roig, 29, said that she locked her 14 students in a classroom bathroom and listened to "tons of shooting" until police came to help.
"It was horrific," Roig said. "I thought we were going to die."
She said that the terrified kids were saying, "I just want Christmas…I don't want to die. I just want to have Christmas."
As RadarOnline.com previously reported, a total of 27 people — 7 adults, including the shooter, and 20 children -- were killed during the massacre.
The gunman has been identified as Adam Lanza, after earlier reports that it was his older brother, Ryan, were dismissed. Authorities confirmed Ryan, 24, is being held for questioning but is not considered a suspect.
Article continues below advertisement
Shocking Footage Of Cop Shooting Suspect Eleven Times Released, Day After Officer Was Cleared Of Wrongdoing
Details Of Justin Bieber Grisly Murder Plot Revealed, Involved 'Strangulation, Torture, Castration'