Dating Deja Vu! Taylor Swift's Pals Say Romance With Harry Styles 'Has Tragedy Written All Over It'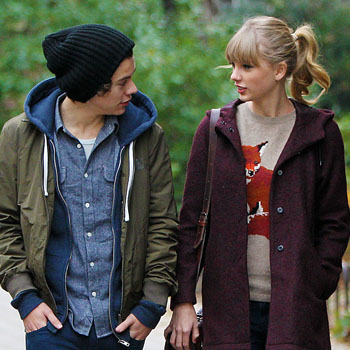 Article continues below advertisement
"Taylor calls him her boyfriend, but it's in the early stages," a Swift source dished to Us Weekly, revealing that Swift is already changing around her schedule and hopping on private jets to spend time with the 18-year-old teen heartthrob.
"It's the same Taylor story – it has tragedy written all over it."
According to the source, Taylor, who RadarOnline.com exclusively revealed, first cozied up to Harry in April 2012 and quietly dated before she caught him kissing another girl, had him back in her sights as her relationship with Conor Kennedy fizzled.
"The breakup with Conor was easy because she already had Harry in mind," the source says.
RadarOnline.com exclusively revealed back in November that Taylor and Harry were giving it a second shot, and they have been in contact ever since, according to the Us Weekly source.
"They have a lot in common. Harry is superclose with his mom and grateful for what he has. He is a good guy," the source says. "Once he likes a girl, he's all in," says a source close to Harry. "He's very romantic: long emails, surprise gifts, meticulously planned dates."
Do you think Taylor Swift's new romance with Harry Styles will last? Sound off below.
RELATED STORIES:
Taylor Swift Hand-In-Hand With Harry Styles At 4 A.M. Outside NY Hotel!
Taylor Swift Honored By Kennedys, Then Goes To See Harry Styles
Taylor Swift Cozies Up To One Direction's Harry Styles In NY
She's No Taylor Swift! Carly Rae Jepsen Would Never Write A Spiteful Song About An Ex