A Hit Song Is The Best Revenge! Stars Who've Slammed Their Exes With Hit Tunes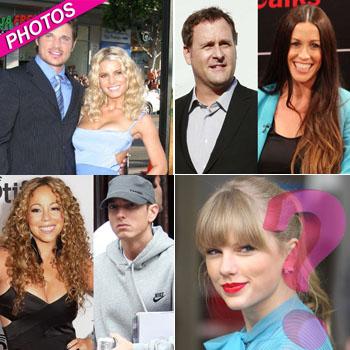 Article continues below advertisement
Though Mariah Carey denies ever having a fling with rapper Eminem, the two have certainly gone public with their disdain for each other. After the Em rapped about his romance with the singer and slammed her husband Nick Cannon in his hit tune Bagpipes from Baghdad, Mariah didn't waste any time before releasing the song Obsessed, which even featured an Eminem lookalike in the music video and made reference to the rapper's drug problem. It didn't end there! A few months later, the Detroit native fired back with the song, The Warning.
MORE ON:
Alanis Morissette
Isn't it Ironic, don't you think, that Alanis Morissette made a name for herself as a musician and got revenge on an ex simultaneously? After a bitter split from Full House star Dave Coulier, the Canadian singer penned the hit song You Oughta Know. Ouch!
Justin Timberlake kept pretty quiet about the rumors that his breakup with Britney Spears was spawned by infidelity, but his hit song Cry Me A River, that featured a Britney look alike in the music video, definitely insinuated that the rumors were true!