Rihanna Dedicates $1.75 Million To Hospital In Memory Of Beloved Late Grandmother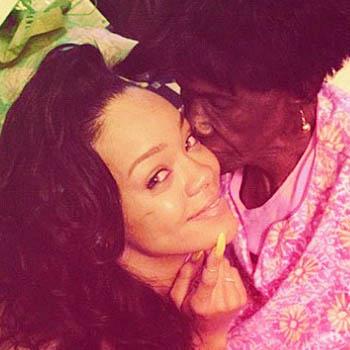 In memory of her beloved late grandmother, Rihanna donated $1.75 million to the Queen Elizabeth Hospital in Bridgetown, Barbados, who renamed their radiation unit the Clara Braithwaite Centre for Oncology and Nuclear Medicine.
"This was my way of giving back to Barbados, in a form of philanthropy, by assisting the QEH in its continued modernization program," the hitmaker, wearing a short, sassy hairdo, said at a dedication ceremony Monday. "I believe that this will have a huge impact on the people of Barbados.
Article continues below advertisement
"This was all done to save lives, or at least extend them."
Rihanna's mother Monica Fenty and Clara's husband Lionel were present at the ceremony. The Man Down singer's grandmother Clara Braithwaite, who she called "Gran Gran Dolly," died in June after a battle with breast cancer.
The Umbrella singer, 24, is spending the holidays in her native Barbados, having rented a $21.8 million beachside penthouse for the season.