NBC News Journalist Richard Engel Freed After Being Taken Hostage In Syria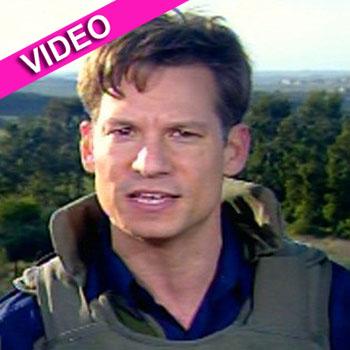 NBC News' star journalist Richard Engel and his crew were released from captivity in war-torn Syria on Monday, five days after being taken hostage, the news organization announced Tuesday morning.
"It was a traumatic experience," Engel, 39, said Tuesday morning during an appearance with his producer Ghazi Balkiz and cameraman John Kooistra on the TODAY show from Antakya, Turkey.
Engel -- who is NBC's chief foreign correspondent -- said a group of approximately 15 heavily-armed gunman jumped out of the bushes and abducted the crew last Thursday after they entered Syria, while killing one of the rebels that was escorting him.
Article continues below advertisement
Engel said while there was no physical torture, there was psychological torture, such as threat of being killed or being asked to choose who would be shot first; he said they refused to make such a choice.
"We're very happy to be here," Engel said. "We're in good health. We're OK. Everyone was great. NBC was fantastic in informing our families, keeping people up to date, keeping the story quiet," he added.
"While we're obviously very happy, there are many people who are still not at liberty to do this kind of thing," Engel continued. "There are still hostages.
There are still people who do not have their freedom inside Syria. We wish them well."
Engel said he believed the kidnappers were an Iranian-trained Shiite group loyal to Bashar al-Assad, which had hoped to exchange the crew for four Iranian agents and two Lebanese members of the group that had been captured.
Article continues below advertisement
Watch the video on RadarOnline.com
Prior to appearing on TODAY, NBC released its first public statement about Engel's abduction, although in the past few days, some Web sites had published rumors of his disappearance.
"After entering Syria, Engel and his team were abducted, tossed into the back of a truck and blindfolded before being transported to an unknown location believed to be near the small town of Ma'arrat Misrin. During their captivity, they were blindfolded and bound, but otherwise not physically harmed, the network said.
"Early Monday evening local time, the prisoners were being moved to a new location in a vehicle when their captors ran into a checkpoint manned by members of the Ahrar al-Sham brigade, a Syrian rebel group. There was a confrontation and a firefight ensued. Two of the captors were killed, while an unknown number of others escaped, the network said.
"The NBC News crew was unharmed in the incident. They remained in Syria until Tuesday morning when they made their way to the border and re-entered Turkey, the network said. They were to be evaluated and debriefed, but had communicated that everyone was in good health."
Article continues below advertisement
NBC News also "expressed its gratitude to those who worked to gather information and secure the release of our colleagues."
The network said there was no claim of responsibility, no contact with the captors and no request for ransom during the time the crew was missing.
NBC attempted to keep the crew's disappearance a secret for several days while it sought to determine their whereabouts and in the hope of not putting them into further danger.
Engel -- who speaks and reads Arabic fluently and is also fluent in Italian and Spanish -- has worked for NBC since May of 2003, two months into the Iraq war. He was promoted to be chief foreign correspondent in 2008. He is perhaps the best-known foreign-based correspondent on television in the United States, garnering more airtime than any other such correspondent at NBC, ABC or CBS.
Visit NBCNews.com for breaking news, world news, and news about the economy