Exclusive
TV Producer Offers Casey Anthony $1M For First Interview – See The Check!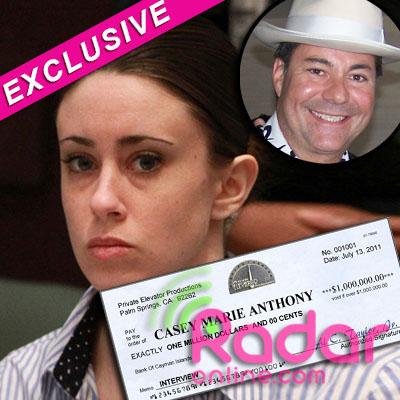 by RadarOnline.com Staff
A TV producer has offered notorious 'Tot Mom' Casey Anthony $1 million for the very first television interview with her upon her release from jail this weekend – and now, only RadarOnline.com can show the actual check to you.
California-based producer Al Taylor -- who has done freelance work for several TV programs including The Jerry Springer Show -- says the offer is officially on the table to Anthony's legal team.
Article continues below advertisement
EXCLUSIVE: See The $1M Check Made Out To Casey Anthony
RadarOnline.com was first to break the news last week that The Jerry Springer Show had offered Anthony $1 million to appear on his often controversial talk show, but after a wave of public outcry, Springer denied any such offer was made.
(At the time of his comment, Springer was not aware of the offer).
But Taylor came forward and told RadarOnline.com that he made the offer on behalf of The Jerry Springer show after getting the okay from one of their senior people. Now, in a private email obtained exclusively by RadarOnline.com, Taylor makes the offer again to Anthony's legal team – only this time, he says he's set up his own production company because he fears no such backlash.
EXCLUSIVE: Read Al Taylor's Official Offer To Casey Anthony
In the email to Anthony's legal team, Taylor writes:
This is Al Taylor. I spoke with you last Friday about the million dollar offer from The Jerry Springer Show that I made to (Anthony attorney) Jose Baez. As I explained at the time, I am a freelance producer for the Jerry Springer Show and other talk shows including The Steve Wilkos Show….
Article continues below advertisement
It was through me that the Springer show made the verbal offer to Jose of a Million dollars for an interview with your client Casey Anthony…
It is now apparent that my freelance clients are afraid to follow through with the offers because of the public backlash and threat of boycotts. Because of that, I have now formed my own independent TV production company named Private Elevator Productions and we are officially making Jose's law firm an offer on one million dollars for the first interview with your client Casey Anthony.
Because we are independent, we fear no media backlash and as such this offer, unlike the others will not be withdrawn. We would like to meet as soon as possible to present you with a million dollar check made out to your client Casey Marie Anthony, so we can sign a contract and conduct the interview as soon as your client exits jail.
Please respond to me as quickly as possible so we can't get this done ASAP.
Article continues below advertisement
Sincerely,
Al Taylor
As RadarOnline.com has previously reported, the nation was stunned last week when Anthony,25, was acquitted on charges of first degree murder, manslaughter and child abuse in connection with the death of her 2-year-old daughter Caylee. The Orlando, Florida woman was, however, convicted on four misdemeanor counts of lying to police for which she received four years behind bars, but with credit for time served and for good behavior, she is scheduled to be released from jail this Sunday.