Exclusive
Jerry Springer $1Million Offer To Casey Anthony Dead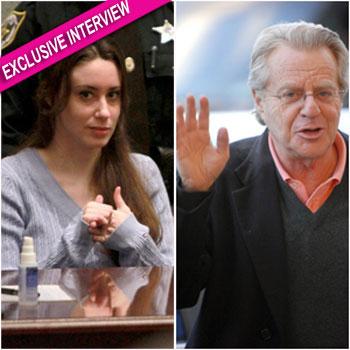 A $1 million offer for Casey Anthony and her family to appear on the Jerry Springer Show is now dead after it sparked outrage, Star magazine and RadarOnline.com has learned exclusively.
The offer was made Friday morning by telephone to Casey's attorney Jose Baez by Al Taylor, a freelance producer who has done work for the Springer show.
Taylor also made a previous offer to Casey several years ago to appear on the Springer show. On Friday, after getting the green light from a highly placed show executive Taylor subsequently made the offer to Baez.
Article continues below advertisement
The offer threw Springer's show into turmoil though as not all execs were aware it had been made. A show insider told RadarOnline.com that he was not aware of the Springer show making a financial offer to Baez, but when asked if there would be interest in interviewing Casey, said: "Any news organization right now would be interested in speaking with her. However, we would not discuss any potential guests."
"I spoke to someone very high up and they knew I made the offer for them," Taylor told RadarOnline.com. "The Springer show got immediate backlash though and decided they didn't want any part of it anymore. But there is another show interested and they are about to make an offer in writing to Baez."
When contacted by RadarOnline.com Jose Baez's office had "no comment" regarding the offer.
RELATED STORIES: