They Earn HOW Much?!! You Won't Believe Real Housewives Biggest Breadwinners' Salaries!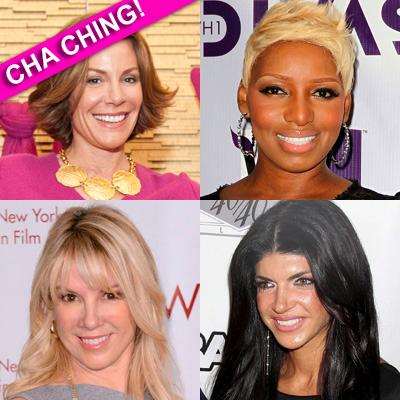 Sometimes, it pays to be a b*tch!
If you've ever wondered how much the lovely ladies on Bravo's various Real Housewives shows make per season, Star magazine is exposing their secret salaries - and yes, the more drama, the more money!
Teresa Giudice - the break-out diva of The Real Housewives of New Jersey, the most watched of the Real Housewives shows with an audience of three million - is the top earner among all the women who appear in the various franchises, taking in a whopping $600,000 per season!
Article continues below advertisement
Fan favorite NeNe Leakes, who now appears on NBC's The New Normal and has previously appeared on Fox's Glee, pulls in $350,000 a season for her loud-mouthed antics on The Real Housewives of Atlanta. She's accumulated a net worth of $4.5 million, thanks to her popularity with viewers.
To find out what other stars of Bravo's Real Housewives franchises pull in, check out the new issue of Star magazine - on newsstands Friday.