Utah TV Station Refuses To Air The New Normal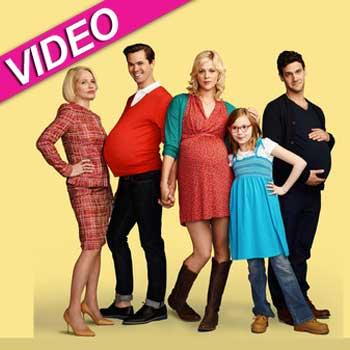 Somewhere, Will & Grace are NOT happy!
KSL-TV -- the NBC Affiliate in conservative Salt Lake City, Utah -- is refusing to air The New Normal, a new sit-com featuring a gay couple; the show is slated to premiere on September 11 on the Peacock Network.
"After viewing the pilot episode of The New Normal, we have made the decision to keep it off our fall schedule," said Jeff Simpson, CEO of KSL parent company Bonneville International, said in a statement. "For our brand, this program simply feels inappropriate on several dimensions, especially during family viewing time."
Article continues below advertisement
Simpson cited crude dialogue, explicit content and offensive characterizations as underlying reasons KSL will not air the sit-com, which was created by Glee mastermind Ryan Murphy.
As of Saturday morning, the always outspoken Murphy has yet to respond via Twitter to KSL's decision.
However, actress Ellen Barkin, who appears on the show, is sounding off.
"Shame on u @kslcom not airing @NBCTheNewNormal So L&O SVU (rape & child murder) is ok? But loving gay couple having a baby is inappropriate?," Barkin tweeted Friday. "Anyone in Utah interested in @NBCTheNewNormal please clog up @ksl5tv feed 4 their blatantly homophic decision 2 not air the show #KSLBigots," she later added.
Simpson pointed out that KSL's decision to not broadcast The New Normal is neither an indictment of NBC, nor an attempt to prevent people from watching the show.
"NBC is a valued partner — and as the Summer Olympic Games prove, they are committed to great news, sports and entertainment programming," Simpson said. "KSL is confident that with the proliferation of digital media, those who wish to view the program can easily do so."
Article continues below advertisement
This is not the first controversy to touch the show – just last month, the advocacy group One Million Moms called on advertisers to boycott The New Normal, saying that "this program is damaging to our culture."
The show stars Ellen Barkin, The Hangover's Justin Bartha, and Andrew Rannells, who coincidentally shot to fame playing a Mormon in the Broadway hit, The Book of Mormom.
A year ago, KSL refused to broadcast another NBC show, The Playboy Club, about the original Playboy Club in Chicago in 1961. NBC axed that show, starring Eddie Cibrian, after only three episodes due to dismal ratings.