Glee Star Dianna Agron On GQ Cover: 'I Am Sorry'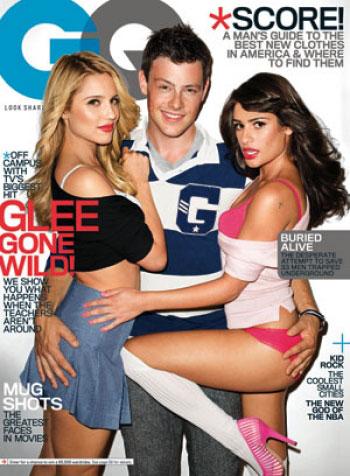 Glee star Dianna Agron addressed the GQ spread she did with co-stars Cory Monteith and Lea Michele and RadarOnline.com has her opinion on the controversy it stirred.
Glee-Q: Fox Stars Steam It Up With Racy Magazine Cover
The 24-year-old actress offered an apology to those who may have deemed the sexy shoot inappropriate, but made it clear that it was just a role she played, not an accurate portrayal of who she is as a person.
Article continues below advertisement
"In the land of Madonna, Britney, Miley, Gossip Girl, other public figures and shows that have pushed the envelope and challenged the levels of comfort in their viewers and fans…we are not the first," Agron wrote on her blog.
"Now, in perpetuating the type of images that evoke these kind of emotions, I am sorry. If you are hurt or these photos make you uncomfortable, it was never our intention.
"And if your eight-year-old has a copy of our GQ cover in hand, again I am sorry. But I would have to ask, how on earth did it get there?"
Agron goes on to explain that she grew up very sheltered, but acknowledged that "in today's world of advanced technology, the internet, our kids can be subject to very adult material at the click of a button."
"I am twenty-four years old. I have been a pretty tame and easy-going girl my whole life. Nobody is perfect, and these photos do not represent who I am. I am also not the girl who rolls out of bed with flawless makeup and couture clothing," Agron wrote.
Article continues below advertisement
"I am most comfortable with my hair thrown on top of my head, in sweats, laughing with my friends. Glee is a show that represents the underdogs, which is a feeling I have embraced much of my own life, and to those viewers, the photos in GQ don't give them that same feeling. I understand completely.
"For GQ, they asked us to play very heightened versions of our school characters. A Hit Me Baby One More Time version. At the time, it wasn't my favorite idea, but I did not walk away. I must say, I am trying to live my life with a sharpie marker approach. You can't erase the strokes you've made, but each step is much bolder and more deliberate."
Agron said she hopes that speaking her mind on the GQ spread will put the issue to rest.
"I'm moving forward from this one, and after today, putting it to rest. I am only myself, I can only be me. These aren't photos I am going to frame and put on my desk, but hey, nor are any of the photos I take for magazines.
Glee Girls And Hopeless Romantics: Best And Worst
"Those are all characters we've played for this crazy job, one that I love and am so fortunate to have, each and every day. If you asked me for my dream photo shoot, I'd be in a treehouse, in a wild costume, war-paint and I'd be playing with my pet dragon. Until then….."