Glee-Q: Fox Stars Steam It Up With Racy Magazine Cover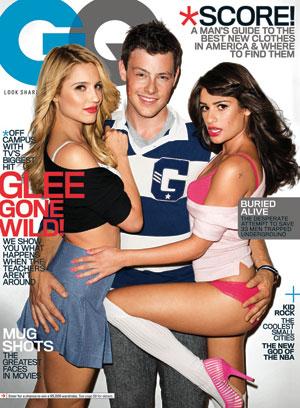 Three of the sexy, young stars of Glee - Lea Michele, Dianna Agron and Cory Monteith - strike a surprisingly provocative pose on the cover of November's GQ magazine.
Michele, who openly flaunts her flesh on the racy cover, gives her best 'model pout' and proves she's no prude, unlike her character Rachel Berry.
"I don't know how they got me to do half the stuff I did," the 24-year-old stunner said of her hot pics for the GQ spread. "But I was in really good shape this summer, so..."
Article continues below advertisement
And although we hadn't heard this rumor, Dianna Agron touched on talk she and Michele are more than just castmates -- and perhaps off-screen lovers.
"When it was just Lea and me, I was like, 'We're in skimpy clothes, we're up against each other,'" Agron said, cleverly avoiding the million dollar question. "This is feeding those rumors. I've never been shot in so little clothing."
And as for the "no sex in the trailers" rule the show's creator Ryan Murphy has called for?
"The first I heard about that was in the media," Monteith said. "I was like, 'Oh, really? Damnit!'"
Glee airs Tuesday night at 8/7c on Fox.
RELATED STORIES: