AUDIO: John Stamos Talks Glee Debut, Britney & Kim K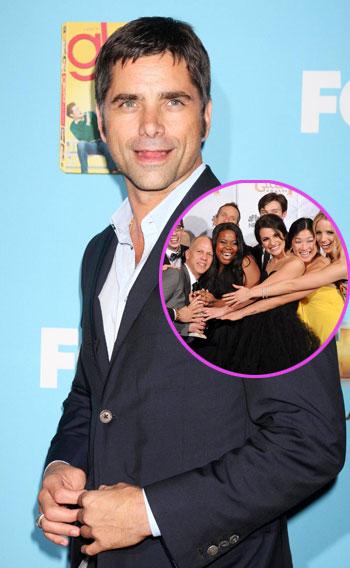 John Stamos dished on his upcoming debut on Glee, his fellow guest co-star Britney Spears and even his thoughts on Kim Kardashian in an interview on Ryan Seacrest's KIIS-FM show Friday, RadarOnline.com has learned.
AUDIO: Listen To Ryan Seacreast's Interview With John Stamos
Stamos, 47, makes his Glee debut in the season's second episode (as does Britney Spears) next Tuesday, where he'll play Emma's dentist boyfriend, Dr. Carl Howell. He said he'll appear in up to 10 episodes of the musical hit this season.
Article continues below advertisement
Stamos said that the show's stars are amongst the hardest-working in the business, as they film, rehearse and record for the multiplatform hit. He said that he reminds them that the work is laying out their legacy, as "people are going to be watching the show for hundreds of years.
Report: John Stamos Victim of Extortion Plot
"Full House is on 80,000 times a day," he said (from experience).
Stamos said to expect about six Britney Spears song in Tuesday's episode. He said he didn't get to chat with the Toxic singer too much because she "kind of comes and goes," but he "heard she was very funny.
Glee's Naya Rivera Takes Out Her Jealousy On Mark Salling's Lexus
"I heard Spears was a little nervous taping her show and had a lot of people around, but Glee's producers do a good job of making people not feel nervous," he said.
Another pop culture cornerstone, Kim Kardashian, was brought up as well, as the single socialite sent an e-mail to Seacrest during the broadcast that read, "John is gorgeous, We need to find me a real man now."