FIRST PHOTO: John Stamos And Alleged Extortionist's Night Together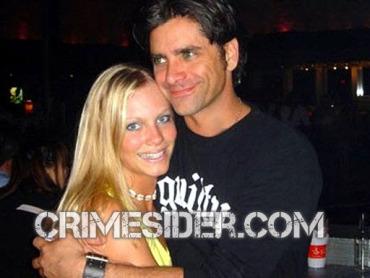 On Monday, Full House star John Stamos faced his alleged extortionist Allison Cross in a Michigan courtroom as a cozy photo of their first night together surfaced on the internet.
Report: John Stamos Victim of Extortion Plot
The photo, which was obtained from a social networking page of Cross by Crimesider according to CBS News, shows Cross and Stamos hugging for the camera. "First time I met this werido sic..." the caption read.
Article continues below advertisement
EXCLUSIVE: Man Accused of Extorting John Stamos Owned Nightclub That Recently Closed
Stamos and Cross had a fling in 2004 when she was only 17-years old while she was on spring break in Florida. The actor allegedly invited Cross and a female friend to his hotel room where he was photographed with hanging out with strippers and leaning over a table covered with cocaine. Stamos has said that he was "heartbroken" over his recent separation from his wife when the meeting with Cross occurred. The two continued an e-mail correspondence after the night in question.
EXCLUSIVE DETAILS: Cindy Crawford Target of Extortion Scheme
However, things eventually went south when Scott Sippola, a 31-year old Michigan nightclub owner, tried to turn Cross and Stamos' relationship into a moneymaking scheme. Stamos contacted the FBI after a man identified as "Mr. X" reached out to him asking for money to ensure Stamos' reputation would not be tarnished by scandalous photos. A sting operation was set up and Sippola and Cross were arrested at a Michigan airport.
Cross and Sippola have pled not guilty to charges that they attempted to extort $680,000 from the actor in exchange for not releasing the photos of him .