Bethenny Frankel Strikes Back At Jill Zarin: 'We're Not In High School!'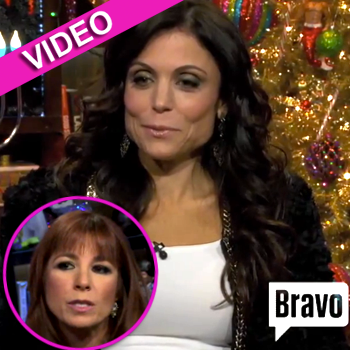 Bethenny Frankel has a simple message for her former friend Jill Zarin: Enough!
On Tuesday night's Watch What Happens Live, the reality star fired back at her former castmate, two months after Jill's controversial appearance on the program in which she jabbed Bethenny, host Andy Cohen, and the Bravo network for various indiscretions.
As we previously reported, in her appearance, Jill claimed Andy and the network played favorites; that her relationship with Bethenny was more business than friendship; and that her social network popularity far eclipses that of all her former castmates combined.
Article continues below advertisement
In the segment, Cohen played the clips of Zarin's appearance, then gave Bethenny the chance to respond -- and from her tone on Tuesday, we gathered Bethenny is eager to move on from all things Jill.
Asked about Jill's sour grapes that their relationship was always a business one, Bethenny defended herself stating the obvious toward Jill: "Your and my relationship BEGAN as a business relationship...I've become friends with a lot of people I've worked with, that's life -- we're not in high school!"
Quoting Woody Allen's Bananas, Bethenny called Jill's notion "a travesty of a mockery of a sham" -- and "a bag of bullsh*t."
As far as Jill's claims she receives 50 to 100 emails from fans daily -- and has more Twitter followers than all of her RHONY alums combined -- Bethenny said, "If you gave me $10 million, I wouldn't know how many followers of any sort that I have …
"I said it back in the day: 'You need to get a damn hobby!' Who has time to think about these things?"
Article continues below advertisement
(We checked: With 1.1 million Twitter followers, Bethenny has nearly twice that of Jill, who has nearly 606,000.)
Watch the video on RadarOnline.com
Calling the interview boring and torturous, in the end, Bethenny took the high road in assessing Jill's rant as a desperate stab at relevancy.
"Here's the honest truth about this entire interview that she did...I don't think that you should hold onto anger, I honestly wish her well and I hope that she's happy.