Exclusive
Bravo Wants Jill Zarin To Come Back To Real Housewives of New York!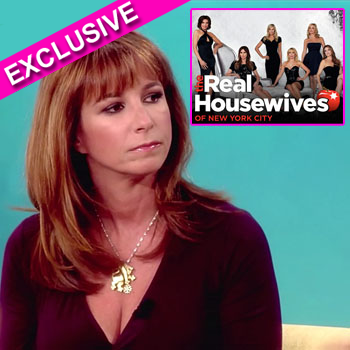 Article continues below advertisement
"Jill is open to the idea of coming back to the show and would be willing to appear as a guest star. Viewers love to watch Jill tussle with Ramona Singer and LuAnn de Lesseps. There was no where near as much drama on the show this year, even with the addition of three new cast members after Jill, Alex McCord and Kelly Bensimon were fired."
As previously reported, Zarin opened up about the sudden axing on Monday, telling Cohen that it felt like "a death."
"It felt like a death…..It felt like my funeral. I was heartbroken and I felt like Bravo was my parents and that when it was 'Bethenny vs. Jill,' you picked favorites," Zarin confessed. "I even felt my dog Ginger got it bad."
This isn't the first time Zarin has been asked to return to the hit show, in January of this year a source told RadarOnline.com that Zarin had been invited back, but that she had declined to re-join.
Article continues below advertisement
"I thought about quitting the show during season 4, because my husband wanted his wife back," Jill told RadarOnline.com in an exclusive interview. "I had such anxiety and pressure to act a certain way and I was paranoid for a reason, because people were planning and plotting against me.
"I'm too old and have grown up too much to do Real Housewives anymore, I want to set an example to my kids and my grandkids."
So might Jill have had a sudden change of heart?
"The outpouring of support that Jill got after her appearance on Monday night is really changing her mind. She is in a better place now and really does love being on the show. Jill is in much more control of the situation because she knows the show needs her more than she needs them," the insider says.
RELATED STORIES:
Jill Zarin On Housewives Firing 'It Felt Like a Death, It Felt Like My Funeral'