Exclusive
Ariel Winter's Mom Denies Nude Pic Scandal, Publicist Says, 'She's Lying & I Have Proof'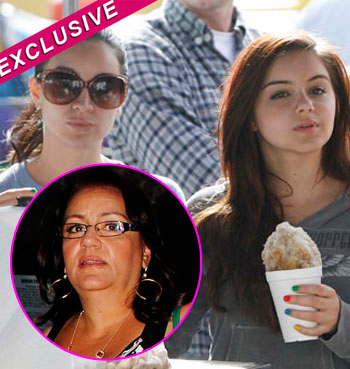 Article continues below advertisement
"When I saw Chrisoula 'Crystal' Workman's statement on video, I'm sure I felt like most people who saw it… deeply sorry for Ariel and Shanelle," Jonathan told RadarOnline.com.
"Crystal's statement was, 'Guys, I have no naked photos of my daughter - no naked.' Notice her emphasis on the word naked? When she approached us and asked us to leak photos of her daughter, she herself described them as 'nude photos' before I even saw them. She included the photos within her email to me."
RadarOnline.com has seen the email from Crystal to Jonathan and verified its authenticity, as well as viewed the photos of Shanelle that were included, which were not completely nude photos but instead two pictures of Shanelle in what appears to be a Halloween costume that visibly shows both her bare breasts and lower genital area.
"In these photos you can clearly see her private parts," Jonathan said.
Article continues below advertisement
"But in my opinion, these photos would in no way discredit Shanelle or reflect poorly on her character. And that's exactly the point. Her mother was trying to over-hype them and sell them to the media so that she could discredit her daughter and try to manipulate the outcome of the upcoming court order.
"Not only did she herself described them as 'nude,' but she even suggested several headlines for me to use when leaking the photos, which all included the word 'nude.'"
Jonathan tells RadarOnline.com he's not surprised Crystal would try to lie about it, but he's confident he has all the proof he needs to show he's the one telling the truth.
"Crystal was desperate and attempting to pass these photos off as scandalous, hoping the media would take the bait, and it backfired," he said.
"We will testify to any and all of our statements."
And he just might have to — a source exclusively told RadarOnline.com that Crystal's attempt to release the photos will actually hurt her chances of getting Ariel, 14, back in the nasty custody battle that has ensued between her mom and sister Shanelle, who has current guardianship.
Article continues below advertisement
"A child custody investigator has been assigned to the case and this is something that will be looked into extensively. Someone who is willing to go to such extreme measures doesn't appear to have the best interests of their children at heart," a source close to the situation told RadarOnline.com exclusively.
"Even though this is extremely hurtful to Shanelle and Ariel, it has helped strengthen the case against Crystal. The judge now has concrete proof of recent events that are damaging and put in question Crystal's ability to properly raise Ariel in a safe and healthy environment."