Exclusive
Ariel Winter's Mom Planned To Use Risque Photos To Win Daughter Back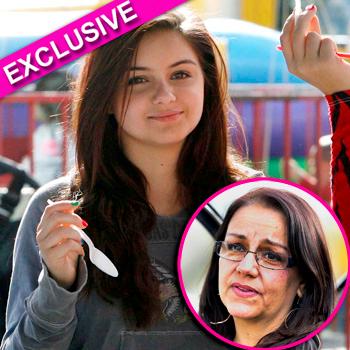 Article continues below advertisement
"What are you thinking about the caption?" Crystal wrote in a text message to the publicist, Jonathan Hay, that she tried to enlist to release the photos.
"Everything on that photo should show since she is trying to steal my child. Yuck."
RadarOnline.com has vetted the text messages, and they are verified to be from Crystal.
"Let me know when the photo is out," Crystal continued.
As RadarOnline.com exclusively reported on Wednesday, Crystal contacted Jonathan and asked him to orchestrate the release of the photos under the guise that it did not come from Crystal.
"In all my years of being a publicist, I have never seen anyone stoop as low as wanting to sell out and destroy the reputation of her own daughter. Crystal said she wanted the public to see Shanelle for who she really was and smear her daughter in attempts to try and get custody back of Ariel," Jonathan exclusively told RadarOnline.com.
"Crystal has called me nonstop in the last 48 hours, trying to get me to leak these pictures. Clearly, Ariel is in the right place with Shanelle and away from her mother."