Exclusive
Ariel Winter's Mom's Plan To Release Risque Photos Backfires, Will Actually Hurt Her Custody Case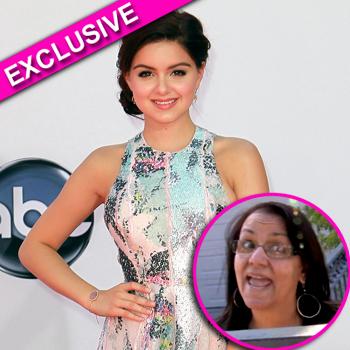 By Jen Heger - Radar Assistant Managing Editor
Ariel Winter's mother's scheme to release risque photos of her daughter, Shanelle Workman, in a bid to show she is an unfit guardian, backfired because it will actually hurt her chances of getting custody back of the 14-year-old Modern Family star, RadarOnline.com is exclusively reporting.
Crystal Workman contacted Hollywood publicist Jonathan Hay earlier this week and asked him to leak revealing photos of Shanelle in an effort to smear her reputation enough to get back custody of Ariel, but her plan was outted by RadarOnline.com.
Article continues below advertisement
"Crystal's plan to release risque pictures of Shanelle, who currently has temporary guardianship of Ariel, is going to backfire on her, in a major way. A child custody investigator has been assigned to the case and this is something that will be looked into extensively," a source close to the situation tells RadarOnline.com exclusively.
"Someone who is willing to go to such extreme measures doesn't appear to have the best interests of their children at heart. Even though this is extremely hurtful to Shanelle and Ariel, it has helped strengthened the case against Crystal. The judge now has concrete proof of recent events that are damaging and put in question Crystal's ability to properly raise Ariel in a safe and healthy environment."
In text messages exclusively obtained by RadarOnline.com, Crystal alleges her legal team planned to use the photos in her favor once they were out.
"What are you thinking about the caption?" Crystal wrote in a text message to Jonathan.
"Everything on that photo should show since she is trying to steal my child. Yuck."
RadarOnline.com has vetted the text messages, and they are verified to be from Crystal.
Article continues below advertisement
"In all my years of being a publicist, I have never seen anyone stoop as low as wanting to sell out and destroy the reputation of her own daughter. Crystal said she wanted the public to see Shanelle for who she really was and smear her daughter in attempts to try and get custody back of Ariel," Jonathan previously told RadarOnline.com.
Meanwhile, "Depositions in the guardianship have been taking place this week and have been very, very emotional. Both Crystal and Shanelle have been deposed, and more are scheduled to take place on Friday," the source said.