Sandy Hook Victim's Family Call In FBI To Hunt Down Scam Artists Profiting From 6-Year-Old's Death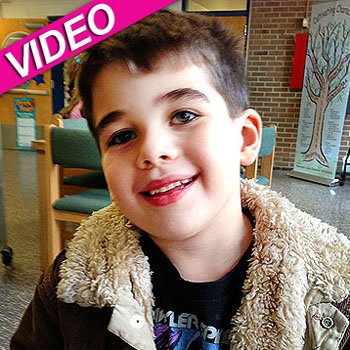 In a disgusting con, scam artists are trying to make a quick buck off of the horrifying school massacre at Sandy Hook Elementary School in Newtown, Conn., and in particular, the death of 6-year-old Noah Pozner, who was laid to rest on Monday.
Noah's family learned of the scam this week when someone they didn't know was attempting to collect donations on their behalf by creating a Website that even used the little boy's name in the address.
Article continues below advertisement
Noah's uncle, Alexis Haller, was so angry he alerted the FBI and asked authorities to find "these despicable people," he told The Associated Press.
"These scammers," he said, "are taking away from families and the spirits of dead kids."
The scam was exposed when a family friend received an email about donating to the fund. The email, which provided details about Noah's funeral and the Pozner family, told donors to send money to an address in the Bronx and listed a New York City phone number to text any questions.
Noah's aunt, Victoria Haller, emailed the person who had originally registered the domain name. The person, who went by the name Jason Martin, wrote back that he'd meant "to somehow honor Noah and help promote a safer gun culture. I had no ill intentions I assure you."
CNN's Anderson Cooper sent a team to the Bronx address, where they confronted a woman named Noel Alba. Alba claimed someone else may have been trying to set her up. She reportedly received $300, but claimed to have returned the money.
Article continues below advertisement
Alexis Haller told Cooper he's spent so much time hunting down these fake sites, that "...instead of doing things with our family, I am running around trying to protect the family."
The Pozner family has now taken back the domain name and has set up a legitimate site at NoahPozner.org.
Noah's death has attracted considerable attention because his family released a transcript of their moving eulogy at his funeral, a eulogy that began with his mother saying, "The Sky is crying..."
Sandra Miniutti, the spokeswoman for CharityNavigator.org, which rates charity organizations, said it's not uncommon for con artists to prey on strangers' goodwill after a tragedy, which happened after the Columbine High School shooting in Littleton, Colo. in 1999, the 9/11 terrorist attacks, Hurricane Katrina in 2005 and the movie theater shooting in Aurora, Colo., in July.
Miniutti told the Daily News, in general, it's best to avoid charities that you've never heard of.
Article continues below advertisement