Matt Damon Talks Steamy Liberace Nude Scenes, Calls Michael Douglas 'A Wonderful Kisser'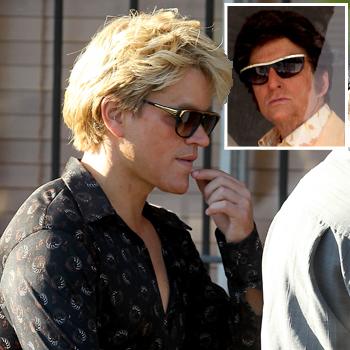 Catherine Zeta-Jones better watch her back as her husband, Michael Douglas, has a new admirer and he comes in the unexpected form of his hunky co-star - Matt Damon!
The Good Will Hunting actor plays Douglas' young lover in the upcoming HBO Liberace biopic, Behind the Candelabra, but instead of being deterred by the many same sex lip locking scenes, Damon is gushing about them.
"Michael was a wonderful kisser," he told Playboy magazine's January/February issue. "My concerns ended up mattering a lot less once we were filming."
Article continues below advertisement
In fact, Damon confessed that he was determined to make the sexy scenes as realistic as he could.
"We both have a lot of gay friends and we were not going to screw this up or bullsh*t it," Damon said. "It wasn't the most natural thing in the world to do though. Like for one scene I had to come out of the pool, go over to Michael, straddle him on a chaise lounge and start kissing him. We drew it up like a football plan."
The intimate scene isn't a one off in the movie and Damon is aware the film won't be to everyone's taste.
"Well, normally I'd say no to nudity," he said. "But I just did a lot of it playing the long term partner of Liberace, Scott Thorson, in Behind the Candelabra. I mean it's tastefully done.
"Steven Soderbergh directed it and Michael Douglas plays Liberace. But this movie's not going to be for everyone…There's stuff I think will make people uncomfortable. Great. It's HBO - they can change the channel."
MORE ON:
hollywood happenings
Article continues below advertisement
As for his real life love, wife Luciana, he admits there's plenty of romance.
"This is the first relationship I've had that wasn't like work to be in. There's always stuff you can work on, of course, but being married and having kids for me, there's a lot of romance, but it's a much bigger endeavor with a lot of nuts and bolts problem solving you have to do together.
"It's like building a company. I wish I were better because my wife deserves someone who surprises her with a gift or flowers or some wonderful idea. I've never been good at that, and she's really good at it, which makes me feel even more like s**t."