Exclusive
EXCLUSIVE: Michael Douglas 'Continues To Improve'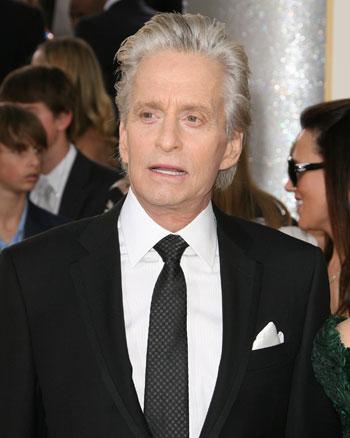 Michael Douglas completed chemotherapy for throat cancer in November and according to his rep Alan Burry, his health continues to improve, RadarOnline.com can exclusively report.
"He's doing fine, his health continues to improve and I can see the difference," Burry told RadarOnline.com.
Douglas, 66, revealed in January that he is in remission for stage four throat cancer after months of intensive treatment.
Article continues below advertisement
The chemo and radiation ravaged his body and at one point he was so frail he was in a wheel chair.
Before being diagnosed with a walnut-sized tumor at the base of his tongue, the screen legend weighed a healthy 175 pounds.
It was said his weight plummeted to 139 pounds at the peak of his treatment.
But, after following a rigid diet to rebuild his strength, just 4 months later, his health is improving by leaps and bounds.
"He goes in once a month for a check-up, and he will do that for the first year," Burry said.
"The appointments are just to monitor how he's doing, and so far he's clear, and they're pleased with his improvement.
"It takes a while so he isn't working yet, and won't start doing movies until the fall."
Douglas was scheduled to start work on his new movie, Steven Soderbergh's big screen bio-pic, Liberace, in May or June. He is set to play the flamboyant pianist while Matt Damon is slated to co-star as Liberace's young lover, Scott Thorson.