Exclusive
EXCLUSIVE: Cancer-Stricken Michael Douglas Travels Hundreds Of Miles To Visit Son In Prison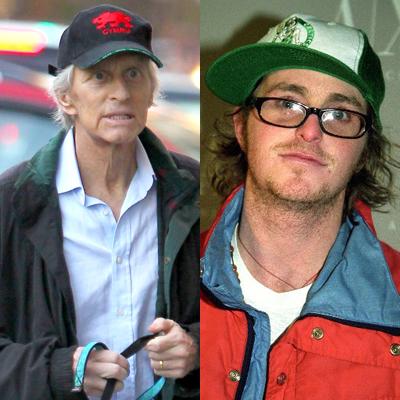 Michael Douglas has been making the three-hour trip from Manhattan to Pennsylvania to visit his jailed son Cameron despite being physically ravaged by his courageous battle with advanced throat cancer, RadarOnline.com has exclusively learned.
Even though he is recuperating from the side effects of chemotherapy and radiation, the Wall Street 2 star is determined to support his drug-dealing son, who is serving a five-year prison term.
Article continues below advertisement
"Michael is still visiting with Cameron," the actor's longtime friend and publicist Allen Burry told RadarOnline.com.
"He's not going everyday and not as often as he would like, but he is still visiting with him."
Cameron, who is serving time in Lewisburg Federal Prison Camp, is expected to be released in December 2013, but the longtime addict could get out a year early, if he completes a prison drug-treatment program.
The 31-year-old was sentenced in April to five years in prison for conspiring to sell crystal meth and for heroin possession.
According to the Lewisburg handbook, Michael and Cameron meet in the visitors' room located within the prison camp grounds. The prison is nearly 200 miles from New York City.
While visitors are not permitted to bring any items into the visiting room, inmates can accompany their visitors to the vending area.
Article continues below advertisement
However, the inmates are not permitted to handle money or touch any of the machines or microwaves.
Earlier this week, the Oscar -winning actor, 66, was photographed looking thin and frail, prompting speculation his health has taken a dramatic turn for the worse. But that speculation is wrong, people close to Douglas say.
"Michael completed his treatment about three weeks ago and is recuperating from the process," Burry said.