Tom Cruise Spanked By Drag Queen At Matt Damon's Wild Birthday Bash!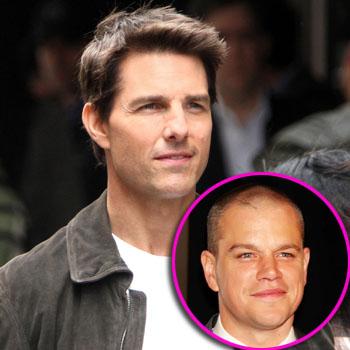 Some people might be intimidated to approach Tom Cruise, but apparently not one drag queen who reportedly spanked the Top Gun mega-star on his bottom at Matt Damon's wild 42nd birthday party in London this past weekend.
The risqué party -- organized by Damon's All You Need Is Love co-star Emily Blunt and her husband, The Office star John Krasinski -- took place at The Box burlesque club on Saturday.
Article continues below advertisement
According to reports, both Cruise and the birthday boy Damon were cornered by the feisty drag queen during the bash.
A source told The Daily Star newspaper: "Emily's husband John organized the kinky party, and chose to have it at Simon Hammerstein's The Box club.
"He knew the birthday boy would see the funny side.
"Within the first couple of hours Tom and Matt were both paddled on their rears by the club's cross-dressing hostess.
"Matt got extra spanking, of course, as it was his special night."
In addition to Cruise, there were other famous faces at the party.
The source added: "It was a celeb-packed night, with stars including Chris Hemsworth and Bill Paxton turning out for Matt.
"Tom had arrived solo, but was soon having fun with his A-list friends.
"They all had a fantastic night enjoying the naughty stage shows and partying until the end of the night."
Article continues below advertisement
Nicole Kidman Battled Depression After Split From Tom Cruise