Exclusive
Danny DeVito & Rhea Perlman Brought Back Together By Michael Douglas!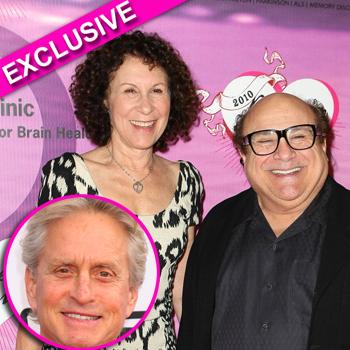 By Jon Boon - Radar Reporter
Happily married family man and screen legend Michael Douglas has been pushing his close pal Danny DeVito to work hard to rescue his marriage, RadarOnline.com is exclusively reporting.
Douglas, who starred with DeVito, 68, in a number of movies including Romancing the Stone and War of the Roses, told the actor he should do everything in his power to save his 30-year marriage because he may never find another woman as wonderful as Rhea Perlman, a source close to the situation tells Radar.
Article continues below advertisement
And it appears to be working, with the previously unhappy couple now trying to work something out.
"When Michael found out Danny and Rhea were splitting up he told Danny he thought he was making a big mistake," the source tells Radar.
"Michael loves Rhea and he told Danny he will never find another woman quite like her. They complement each other perfectly and are the best of friends.
"He said he should do whatever it takes to win Rhea back and come to his senses fast before it is too late. It's because of Michael they are talking to each other.
"They are still trying to work things out, and for the moment they are just good friends, but they are heading in the right direction.
"Michael is well positioned to talk about marriage. He's been with Catherine (Zeta-Jones) for 12 years now and he learned a lot from his failed first marriage to Diandra (Luker).
"He's confident that Danny and Rhea will settle their differences and get back together," the source divulges.
Article continues below advertisement