Exclusive
Single In The City! Danny DeVito Moving To New York: He Misses The Big Apple!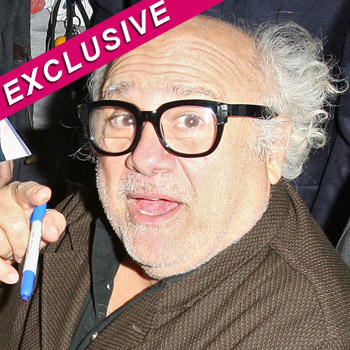 By Jon Boon - RadarOnline.com Reporter
Danny DeVito is set to reignite his love affair with the east coast – he's looking to move to New York, RadarOnline.com is exclusively reporting.
The It's Always Sunny in Philadelphia star, who was originally raised in New Jersey, wants to move back to the Big Apple now that his marriage to wife of 30-years Rhea Perlman is over and their three kids are grown up.
The 67-year-old actor never felt completely settled in Los Angeles and wants to make New York his permanent home.
Article continues below advertisement
"Now that Danny and Rhea have ended their marriage, he's looking at moving back to the east coast.
"He's a Jersey boy, and despite living several years in California he's never forgotten his roots. He even named his production company, Jersey Films after his place of birth.
"Danny and Rhea used to stay at his vacation home in Interlaken, New Jersey whenever they wanted a break away from Los Angeles. He never really felt an affinity to California and lived there purely for work reasons.
"He loves living in a bustling, busy city and is looking at New York for a permanent stay – it's just closer to home for Danny.
"Chet, Grace and Jacob are all now adults and are more than capable of looking after themselves.
"There are several apartments in the Big Apple that he's got his eye on. He especially loves Manhattan," the source revealed.
As RadarOnline.com previously reported, Danny's shocking split from Rhea was no surprise to a former crew member on one of his movies who exclusively revealed that the Twins star cheated with an extra on the set of one of his films.
Article continues below advertisement
According to the film insider, Danny promised one young blonde extra on the set of 90s movie Hoffa that he could make her a star and he would frequently invite her into his limo where the pair would get frisky.
"It was kind of pathetic because she was very young and beautiful and obviously just having sex with him in hopes that he'd make her a star," the insider claimed. "Danny would have his limo driver drive them all over the city and they'd canoodle in the back before going back to his room together.