Exclusive
The Real Reason Behind The Split Of Danny DeVito & Rhea Perlman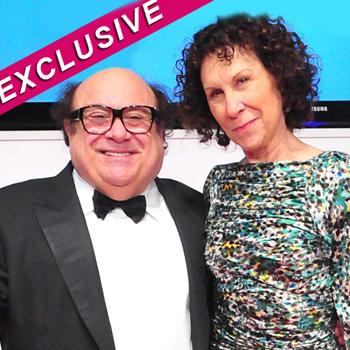 By Jon Boon - RadarOnline.com Reporter
Despite the sadness of splitting with husband of 30-years Danny DeVito, Rhea Perlman is relieved and ready to enjoy life again, RadarOnline.com is exclusively reporting.
Rhea, 64, and Danny, 67, are still the best of friends, but the strain of the It's Always Sunny in Philadelphia star's wandering eye led the Cheers actress to finally accept their marriage was over.
Now that their kids, Lucy, Daniel and Grace are old enough, Rhea made the heartbreaking decision to end their wedlock, and she now wants her own freedom.
Article continues below advertisement
"There's no real bitterness between Danny and Rhea, because they are still close friends," a source close to the family told RadarOnline.com.
"Both did a wonderful job raising Lucy, Daniel and Grace, and they kept their marriage alive for the sake of raising their kids.
"However, their matrimony just ran its course. Danny's flirting and inappropriate behavior with other women infuriated Rhea; she just felt that it was time for her to move on with her life.
"The split is obviously tinged with sadness, Danny and Rhea did everything together and they'll both miss each other's company.
"The pair had a grown-up chat with the kids, explained the circumstances to them and explained their feelings.
"It was all pretty amicable in the end, and Rhea is relieved she doesn't have to worry about Danny and wants to just enjoy the rest of her life.
"She will focus on her work and probably take time off in their shared vacation home in New England," the insider revealed.
Article continues below advertisement
As RadarOnline.com previously reported, Rhea was finally fed up with Danny's flirty and inappropriate ways and instigated a split.
"He may not appear to be a ladies' man, but Danny certainly gets a lot of female attention," a source close to the family told RadarOnline.com.
"Despite his reputation as a lovable, funny guy in movies and on TV, Danny's actually quite the flirt and ladies' man. Like a lot of red-blooded males, if he sees an attractive girl in a coffee shop or walking down the street, he will give her the eye.