Lost And Blind Dog Battles Back To Alaska Owners For Christmas Miracle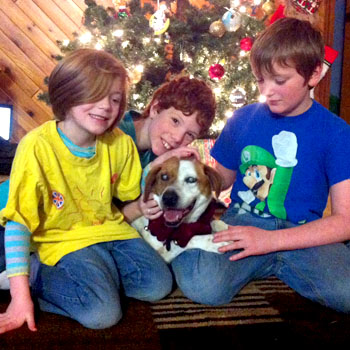 By Debbie Emery - RadarOnline.com Reporter
Being lost and freezing in the Alaskan tundra is what Hollywood horror stories are made of, but for one poor blind pooch it became a chilly reality after she went missing during a bitter blizzard.
With temperatures reaching 40 degrees below zero, eight-year-old Abby's family thought they would not see their beloved pet again, whom they raised from an animal shelter puppy, when she was swept up on December 13 during the worst part of the recent snow storms, reported the Fairbanks Daily News-Miner.
Article continues below advertisement
McKenzie Grapengeter had sadly resolved to the reality that the short-haired brown-and-white mixed breed would never again sniff around in their five-acre lot with her children, Greg, 10, Shane, 9, and Ava, 6, especially as the the rescue dog began losing her sight a number of years ago.
Amazingly, the family got a real-life Christmas miracle when after a week of pining for their pet, they got a call saying Abby had been found safe and sound more than 10 miles away from home.
"It's a miracle; there's no other words to describe it," revealed Grapengeter, while fighting back the tears. "We never expected to have her to be returned safe and alive. She's blind. It's a miracle. It's amazing."
Local musher and veterinarian Mark May spotted Abby curled up on the trail while running his dog team on Wednesday afternoon, but wasn't able to stop to grab her. "This poor little dog had no coat and it had melted a hole about 10 or 8 inches deep," he explained. "It ran with us for about a mile on the way home before she fell off the pace, but I had a big dog team so I couldn't grab it. I said, 'Boy, I hope it finds somebody's house.'"
Article continues below advertisement
The next day, Abby did find shelter and coincidentally on May's own doorstep. "Everybody just assumed it was some kind of scardey cat, but there it was in front of the door in our dog lot and it was blind," he told the News-Miner. "It was sitting there, all the way from 14 mile on the winter trail down into this neighborhood, I guess by just sniffing, so I picked it up and brought it in."
Other than being hungry and cold, the lost dog didn't suffer any ill-affects or frostbite from her ordeal, revealed the vet.
"It's amazing… No frozen ears, no frozen toes, she'll probably go back home and it'll be business as usual. She's no worse for wear but quite an adventure."
Without a tag or a chip, May didn't know who the dog belonged to, so he used the power of social media to track down her family by posting her description on Facebook and in e-mails to the close-knit community.
After being recognized by a neighbor, on Christmas Eve Abby was back warmly cuddling with her family under the tree, a stomach filled with hearty dog food and a new tag on the collar around her neck.
Article continues below advertisement
Golden Eagle Snatches Child In Shocking New Viral Video
Life After Michael! Bubbles The Chimp Is Dumped By The Jackson Family