Skier Lindsey Vonn Talks Debilitating Depression, 'I Couldn't Get Out Of Bed, I Felt Hopeless, Empty, Like A Zombie'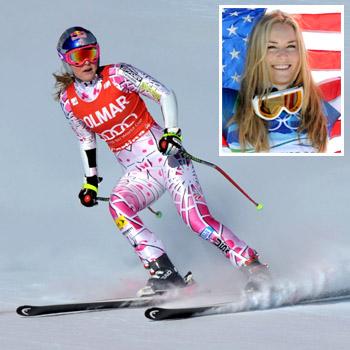 Stunning gold medal winning Olympic skier Lindsey Vonn has lifted the lid on her debilitating struggle with depression and how her divorce left her feeling like a failure.
The 28-year-old athlete was at the top of the world in 2010 when it came to her career, after winning her first Olympic gold medal, but away from the ski slopes Vonn confesses that her life was crumbling.
"Everyone saw me on TV, or read articles, and it was about my great marriage, the white picket fence, all this success and my perfect life. But behind the scenes, it was a struggle," she told People magazine.
Article continues below advertisement
Vonn was fighting hard to keep her marriage to fellow skier Thomas Vonn - whom she met when she was just 16 years old - on track, but in 2011 she announced their split.
"Divorce doesn't fit my cookie-cutter image," said Vonn. "But I got to the point where I said, 'I don't care if I ever win another race; I just can't live like this.'
"Everyone knows marriage is tough, but it just wasn't working and it was making me miserable. Nothing bad happened, but there was just an unhappiness. That's the only way I can even describe it - unhappy."
However, it wasn't her marriage woes which first threw her into a deep depression, Vonn admits she began suffering when she was a teenager and her own parents were having marital troubles.
But she said that she now wishes she had got help sooner instead of brushing the issue under the carpet.
"Because of my stubbornness, or shame of not wanting to admit something was wrong, I didn't do anything about it," she said. "I always channeled what I felt emotionally into skiing - my insecurities, my anger, my disappointment. Skiing was always my outlet and it worked."
Article continues below advertisement
Her depression returned less than a year after she got married and she reveals that it threatened to destroy her career.
"I couldn't get out of bed. I felt hopeless, empty, like a zombie."
When she eventually sought treatment, the results were incredible and left her feeling like "a different person."
"It was crazy. I was excited to go outside again. I got lucky to find the right treatment right away."