Exclusive
Kendra Wilkinson On Married Life: 'It's Been Almost 3 Years And We're Still Strong'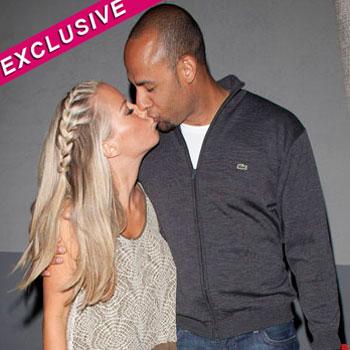 Kendra Wilkinson and hubby Hank Baskett III haven't fumbled the ball when it comes to their marriage.
"We seriously believe in love," she exclusively tells Star magazine. "It's been almost three years, and we're still strong. We want to be lifetime partners."
The Playboy Playmate, 26, exclusively tells Star that while she and Hank, 29, have had their fair share of issues in their near-three years as a married couple, communication has been the key.
Article continues below advertisement
"Everything is not picture perfect. We have been through so many ups and downs," the reality beauty says. "We've talked about couples therapy, but we can talk through anything. We put everything behind us — we are therapists to ourselves."
And while some showbiz marriages last a New York minute -- or a whopping 72 days -- Kendra said she and Hank, parents of 2-year-old son Hank IV, will "never say the word 'divorce.'
"We don't even allow that word to exist," she tells Star exclusively. "We're hanging on there. We are looking at the longevity."
Kendra said one hiccup for the couple has been Hank's transitioning career, as he's finished with football and hopes to break into broadcasting.
"Hank's the smartest guy in the world, and he loves to host," Kendra told Star of her hubby, who played for the Philadelphia Eagles and Indianapolis Colts. "He's even taking hosting classes."