PHOTOS: Kendra -- The Ring Is Off, But The Marriage Is Still On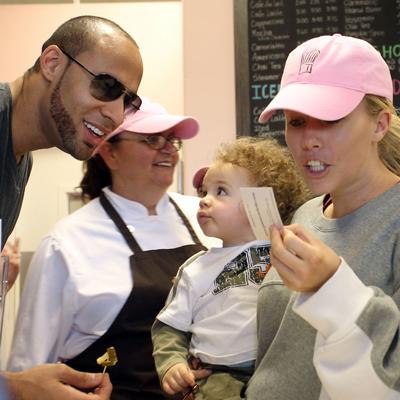 Her wedding ring might be off but former Girls Next Door star Kendra Wilkinson's marriage to NFL star Hank Baskett is definitely still on, RadarOnline.com can reveal.
Kendra and Hank appeared at Coffee Kiosk in Valencia, California, over the weekend with their baby son Hank Jnr.
But although Kendra appeared without her wedding ring, we are pleased to report that everything is fine with the high-profile couple who had been at the center of recent marriage split rumors.
Article continues below advertisement
"Kendra told me that she had just sent her ring to get re-sized because it was not fitting properly and that she and Hank had never been happier," one source close to the couple told RadarOnline.com.
Hank's father, Hank Snr, blasted the marriage bust-up rumors, telling RadarOnline.com last week they were "a bunch of crap".
"It's a joke... there are no plans on getting a divorce," our insider added.
"They're going to be out and about at events in Los Angeles."
The newlyweds have been fighting back at rumblings of a split for months since Kendra decided to be bicoastal and move back to Los Angeles.
Kendra's mom even told RadarOnline.com last November the pair was planning to have another baby.
"The marriage is fine and they came to the decision together that they'd be both better off with him concentrating on his career and she could concentrate on her career here in L.A.," said Patti Wilkinson.
Article continues below advertisement
"They see each other when they can until football season is over then he's going to move to L.A. and they're going to buy a house and live happily ever after!
"It was the best decision they could have made and it's only a couple of more months before he's out here."
Wilkinson, 25, and Baskett, 28, who plays for the Minnesota Vikings, tied the knot during a lavish ceremony at the Playboy mansion in July 2009 - just a month after they announced they were expecting.