America's Most Wanted (Groupie!): Lindsay Lohan Gets Center Stage, Upfront & Personal With Max George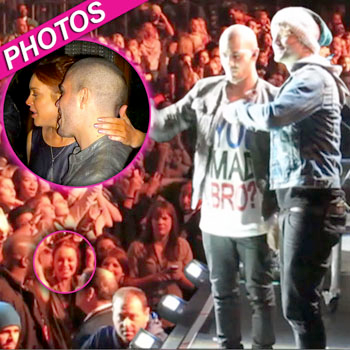 Lindsay Lohan took her one woman groupie act on the road once again over the weekend when she was spotted up front and center as British boy band, The Wanted, performed in New York.
And, if there's any doubt left that the Liz & Dick star has firmly set her sights on hooking the band's super cute singer, Max George, RadarOnline.com has photo evidence to prove their relationship seems to be full steam ahead.
Article continues below advertisement
Later in the evening, the 26-year-old was snapped at a New York club tenderly stroking George's neck. The pair looked very cozy and happy in each other's company and oblivious to the cameras.
As RadarOnline.com previously reported, Lohan was grinning like a Cheshire cat in the front row of Madison Square Garden Friday night while The Wanted performed at the Z100 Jingle Ball.
After their set, Lilo was spotted in the band's dressing room helping herself to some of their Kellogg's Pop Tarts. She also later joined George at his suite in the Dream Hotel.
Lindsay Lohan Won't Have 'The Wanted' On Her Side During Legal Proceedings Over NYC Catfight
Watch Out Max George! You're Wanted By Lindsay Lohan!
Lindsay Lohan Will Find Out Next Week If She Is To Be Prosecuted For Alleged Club Assault