Larry Hagman's $6.4 Million Home For Sale, Take A Peek Inside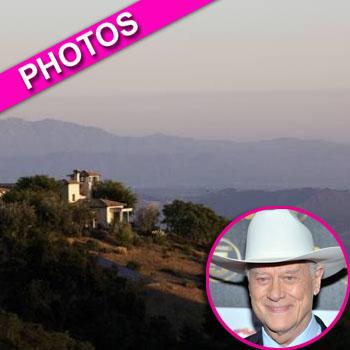 Article continues below advertisement
In a beautiful video tour of the home narrated by Larry, he describes how he and his wife looked at a property in Ojai: "I took a look at it and that was on a Monday and Friday we owned the property."
He says they were trying to decide on a name for the property and tossed around Hagman's Hideaway or Hagman's Haven but his wife ultimately came up with the name Heaven.
"She said 'This is as close to heaven as I think we'll ever get,'" Larry explains.
He told the story of how Maj transformed the property, joking: "I expected a nice little four bedroom house, I think it was 1,500 square feet so may added another 25,000 square feet."
The Tuscan-style home sits on 42 acres, has planted olive, grapefruit, lime, orange and avocado trees an 400 rose bushes. The property has a manmade babbling creek with view of the Pacific Ocean and the mountains in all directions.