Larry Hagman, Dead At 81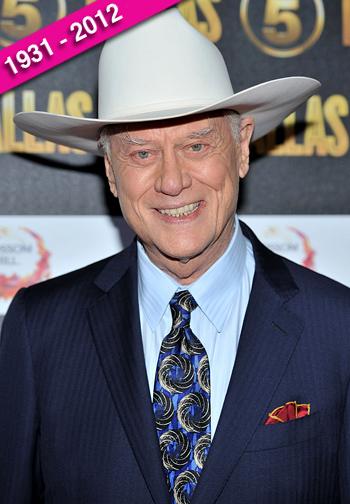 Larry Hagman, who starred as one of TV's most iconic figures, J.R. Ewing, has died at the age of 81.
The Dallas star was surrounded by family and even some of the costars of his beloved TV show, which was reprised earlier this year on TNT, when he died due to complications from cancer.
Hagman was already a TV star, thanks to his years on I Dream of Jeannie, when he took on the starring role in Dallas, one of TV's first primetime soaps.
Article continues below advertisement
The show ran on CBS from 1979 to 1991 and was seen in 57 countries. It's legendary Who J.R.? was seen by an estimated 350 millions fans around the world.
"He was the pied piper of life and brought joy to everyone he knew," his costar and close friend, Linda Gray, said in a statement. "I will miss him enormously. He was an original and lived life to the fullest."
Hagman left behind his wife of 59 years, Maj, their two children and five grandchildren.