Dallas Then And Now! How JR, Sue Ellen and Bobby Ewing Have Aged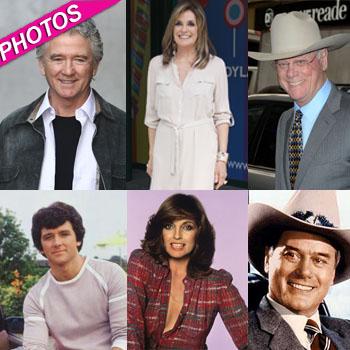 Dallas was the granddaddy of all soap operas spawning catchphrases like, 'Who shot J.R.?' and mass ridicule over Bobby Ewing's dream that encompassed all of season eight.
But after a 13 season run, the show came to an end in 1991 leaving fans wandering what happened to the oil obsessed dysfunctional family.
And now the wait is over with the TNT reboot, which premiered Wednesday to great reviews. The first show was a ratings winner and raked in 6.8 million viewers making it the top scripted series premiere on cable this year so far.
Article continues below advertisement
And although the drama remains, the three original cast members have certainly aged - well it has been more than 20 years!
Larry Hagman, 80, has appeared in several TV shows over the years including Nip/Tuck and Desperate Housewives. Despite being an octogenarian he has lost none of his fire and is as scheming and troublesome as ever.
Patrick Duffy, 63, went on to star in Step By Step for seven years after leaving Southfork and also appeared in another soap favorite The Bold and the Beautiful. No love has been lost between him and J.R. and he is now more salt and pepper than dark handsome but still has his southern charm.
Meanwhile, Linda Gray, 71, went on to have several TV and film appearances and starred in stage productions including The Vagina Monologues. As Sue Ellen, she is still as conniving and unstable as she once was.
A lot of the drama in the Dallas reboot centers around J.R.'s son John Ross (Josh Henderson) who is in a constant battle with his cousin, Christopher Ewing (Bobby's son) played by Jesse Metcalfe. They've basically picked up the backstabbing and feuding where their fathers left off and 'take ambition and deception to a wicked new level.'
Article continues below advertisement
But while John Ross is all about the money and keeping up the family oil business, Christopher is more interested in green energy sources, which was what his late grandmother Ellie Ewing wanted.
And life on Southfork would not be complete without fighting over beautiful women which this time around comes in the shape of Elena Ramos (Jordana Brewster) who was supposed to have tied the knot with Christopher but that was derailed by John Ross just before the nuptials and the two are now dating.