Texas-Sized Drama Returns On 'Dallas'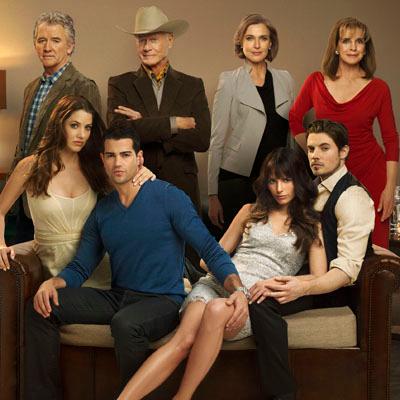 The ultimate family feud is back! A new version of Dallas, the smash-hit prime-time soap that was as '80s as hair metal, follows a new generation of Ewings — who are even more ruthless than their parents. When we return to the Lone Star State, John Ross Ewing III (Josh Henderson), son of J.R. (Larry Hagman), is determined to drill for oil on family land. Meanwhile, cousin Christopher (Jesse Metcalfe), the adopted son of J.R.'s little brother Bobby (Patrick Duffy), has a secret plan to bring the family into the alternative-energy business.
Article continues below advertisement
And in a twist that somehow tops their dads' sibling rivalry, John's girlfriend, Elena (Jordana Brewster), is Chris' ex-fiancée. Sitting in the middle is Sue Ellen Ewing (Linda Gray), J.R.'s long-suffering, shoulder-pad-wearing, gin-guzzling wife, who is determined to help son John take over as head of the family.
And while 20 years have passed, Sue Ellen hasn't changed much. "I tried to lovingly and carefully connect the dots of her life," Linda tells Star. "She was as dysfunctional as anybody could be, so I thought, 'Let's start there and see where she would go!'"
Linda understands that reprising her iconic role is a daunting challenge but still had no reservations about taking the part. And she thinks she knows what made Dallas such a phenomenon decades ago. "People were fascinated by the family drama, and the bigness of Texas is always appealing," she explains.
"It's larger than life, and during the '80s everything was bigger, from the earrings to the oil deals."
The jewelry has gotten smaller, but some things haven't changed — and Linda believes the timing is right for this new version.
"We've had all the cop shows, detective shows, reality shows," she says. "I think people are in need of a family drama again."
Premieres Wednesday, June 13, at 9PM on TNT